Reaction to Andre Villas-Boas appointment by Chelsea
Last updated on .From the section Football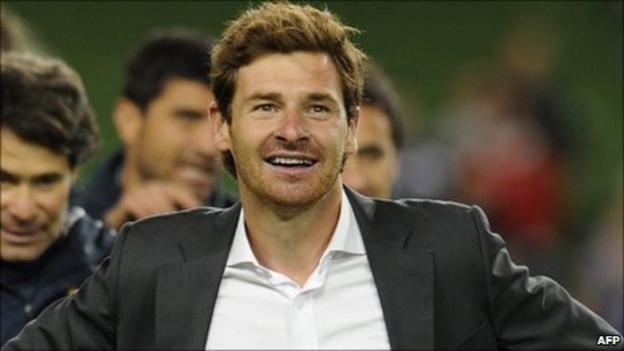 Andre Villas-Boas became the fourth youngest manager in Premier League history when he took over at Chelsea on Wednesday.
The 33-year-old resigned as Porto boss on Tuesday, having led the Portuguese side to a domestic league and League Cup double and the Europa League trophy in his first and only season in charge.
These are the views from the football world about a manager likened to his former mentor Jose Mourinho:
CHELSEA STATEMENT
"Andre was the outstanding candidate for the job.
"He is one of the most talented young managers in football today and has already achieved much in a relatively short space of time.
"His ambition, drive and determination matches that of Chelsea and we are confident Andre's leadership of the team will result in greater successes in major domestic and European competitions."
FORMER CHELSEA ASSISTANT MANAGER RAY WILKINS
"We've had lots of older coaches come in at Stamford Bridge and they've not done as well, so we have to give this young man the credit for what he has done up to now.
"Let's give the young man a chance, he's obviously done exceptionally well. His man-management skills, from what I can read from the players he has worked with, are first class.
"That will be required at Stamford Bridge because these are big players, big guys, and it will be very interesting to see how he goes on."
FORMER CHELSEA BOSS JOHN HOLLINS
"He could be fearless. I think it could be a breath of fresh air, bringing in a fresh approach to what is maybe a tired football team.
"This guy is as young as some of the players are so he will be on the same wavelength with them, but is it going to be a three or four-year programme as opposed to having to win something in his first year? That is the one thing we don't know yet, but he has won three competitions in Portugal just like that, so he could be a whizz-kid.
"It's a gamble but I think it's a calculated gamble. I still don't know if Guus Hiddink [former Chelsea boss] will be coming as an adviser to the young man. If he does, that will only strengthen the position."
FORMER CHELSEA WINGER PAT NEVIN
"There is always a risk with every managerial appointment, but he is highly regarded as one of the up-and-coming young European coaches and has been successful in domestic and European competition.
"He is flavour of the moment and Chelsea have seen something in him."
Read the full interview with Pat Nevin by BBC Sport's Phil McNulty.