Rwanda's footballers keen to present new image
Last updated on .From the section Football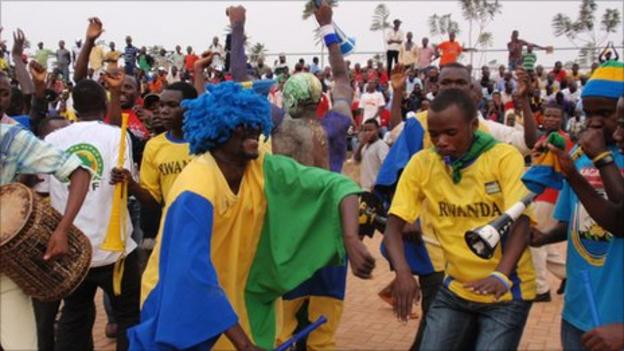 Rwanda appear on the international football stage for the first time in Mexico when their Under-17 side takes on England at the World Cup in Pachuca on Sunday night.
The 'Baby Wasps' secured a place at the 24-team tournament by finishing runners-up behind Burkina Faso in the eight-nation African finals early this year.
While sceptics believe Rwanda owe their debut at a Fifa World Cup finals to the fact that they hosted the African championship, France-born coach Richard Tardy begs to differ.
"We intend making life difficult for our opponents," says the 60-year-old native of Marseille. "I have set a target of reaching the second round at least."
Finishing among the top two in a Group C completed by Canada and Uruguay would achieve that objective and even third place might suffice with four of the six countries occupying that position also advancing to the knock-out phase.
And Tardy says his 'Wasps' are on more than a football mission in Mexico.
He says they are ambassadors for a country that created worldwide headlines in 1994 when the genocide claimed an estimated 800,000 lives within four months.
"We must present a good picture of Rwanda," stressed the Frenchman, who has just signed a two-year contract extension.
"Coming to Mexico is the start of the future and I see the young footballers as symbols of a new Rwanda because they will alter the mindsets of people around the world."
President Paul Kagame is the number one supporter of the 'Wasps' and watched them defeat Ivory Coast and lose to Burkina Faso as the African championships reached a climax before 30,000-plus crowds in Kigali.
World junior championship squads are restricted to 21 footballers and Tardy selected 15 locals, three playing in Uganda and one each from Belgium, England and France.
Alfred Mugabo is a striker with famous London club Arsenal and while none of his team-mates made the England squad, there are starlets from Chelsea, Liverpool and Manchester City.
Key players in the Rwandan squad include captain Emery Bayisenge, fellow defender Faustin Usengimana, midfielder Mwesigye Tibingana and strikers Justin Mico and Alfred Mugabo (on the books of Arsenal).
Based of the Rwandan federation's football academy in a Kigali suburb, Bayisenge stressed the serious mood among his team-mates as the moment of truth draws close.
"We are not looking at the world junior championship as just an adventure," he says.
"We are in Mexico to win - people may consider us underdogs, but we want to make Rwandans proud of us."
A three-month build-up included matches in Rwanda, France, England and the United States with Tardy saying he needed such lengthy preparations because many of his squad lack competitive match practice.
Rwanda are joined at the Mexican World Cup by fellow Africans Congo, Ivory Coast and continental champions Burkina Faso.