Stuart Pearce seeks to soothe England Under-21 nerves
Last updated on .From the section Football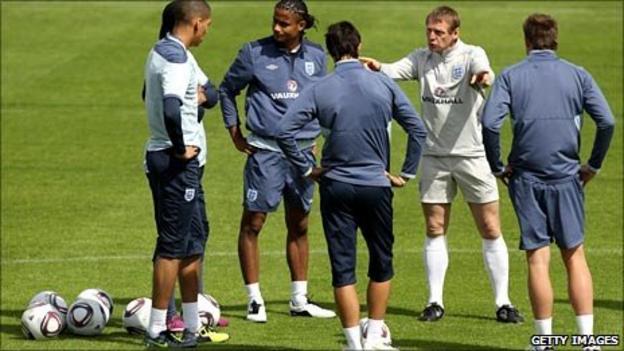 Stuart Pearce is using his tournament experience to help England overcome their nerves to reach the European Under-21 Championship semi-finals.
The Under-21 manager said: "I can draw on my experience to feed back to them.
"I've gone to a World Cup and into the first group game. You're scared stiff. If they feel nervous, that's normal."
England must beat the Czech Republic in their final group match on Sunday evening to advance after drawing the first two games.
Pearce was a key member of the senior England side who reached the semi-finals of the World Cup in Italy in 1990 and the European Championship on home soil in 1996.
And although he was eager not to sound like "some old codger wheeling out another story", his journey with the late Sir Bobby Robson's team 21 years ago has provided him with plenty to pass on his young charges.
"That's the beauty of playing the game prior, when you say to them 'I know how you feel'," Pearce said.
"I'm fortunate enough to have trodden the same path as these players.
"A few years before that, I was an electrician, so the experience had come on me very quickly."
Referring to the England's opening game of Italia '90, a 1-1 draw against the Republic of Ireland, Pearce admitted: "I had 20 senior caps going into that game but I didn't play particularly well.
"When I came in after the game, Bobby Robson looked at me and asked, 'Where is Stuart Pearce?'.
"I said I didn't know, that I hadn't played well and I was a bit nervous.
"He just turned around and told me that he had given me 20 caps not to be nervous.
"Even after the 20 caps and starting against Brazil in my first game, nothing prepares you for stepping out at a World Cup.
"For all these boys, this is the biggest tournament they have ever played in."
Pearce has been boosted by the news that midfielder Henri Lansbury (ankle) and defender Chris Smalling (tonsilitis) will both be fit to play.
England's draws against Spain and Ukraine mean they must take maximum points against the Cech Republic at the Viborg Stadion on Sunday to avoid coming home early.
The Czechs went through qualifying unbeaten but were outclassed in their 2-0 defeat by Spain on Wednesday.
"They certainly got a bit of a runaround by the Spanish, I think, having watched the game," Pearce said.
"But they've got three points in the bag, so that puts them in a stronger position in the group than we are at the moment."
"It's a really tough group we're in. We knew it'd go to the last game.
"All four teams are in the same situation. They've got to go into the last games and get results.
"There is not one team out of the four of us that can afford to get beaten.
"If you get beaten, you go home, as simple as that. That applies to the Spanish as much as us."
At Italia '90, England also had to win their final group match - against Egypt - to qualify for the knockout stages.
England won 1-0 and went on to find their best form in the knockout stages - something Pearce believes can happen again.
"If we got out the group by winning this game then the manner in which we do it will galvanise us," he said.
"If we had beaten the Ukraine, having drawn against Spain, then drew this game and went through, then I don't think the momentum would have galvanised us the same.
"Don't forget, the Germans are not here, the French are not here, the Italians are not here. We're all too ready to write off our own nation.
"You've got to have confidence in your team. I've got confidence in the ability of our squad to go and deliver a result, always have done."