Agbonlahor urges Aston Villa fans to back Alex McLeish
Last updated on .From the section Football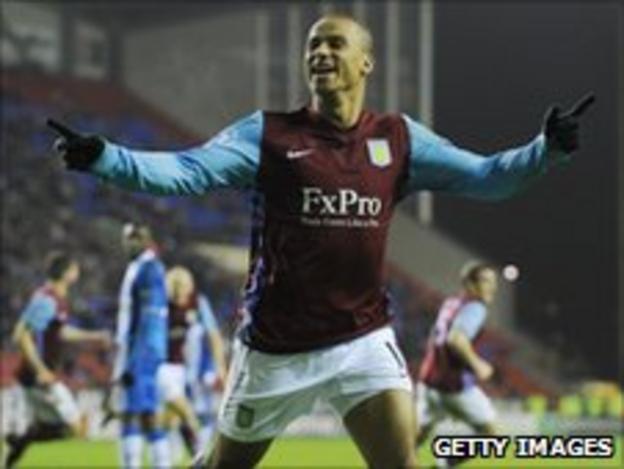 Striker Gabriel Agbonlahor has urged Aston Villa fans to give new manager Alex McLeish time to prove his worth.
McLeish's appointment on Friday, five days after resigning from Birmingham City, has reportedly led to death threats from followers of both clubs.
Villa fans have concerns over McLeish's perceived defensive approach, but Agbonlahor sees "exciting times ahead".
He said: "To those fans who don't seem to be happy, my message is to give him a chance and see what he can do."
Agbonlahor added: "At Birmingham his team had to play a certain way and some Villa supporters seem to be worried about that kind of style because it's not Villa's way.
"But with the talented group of attacking players he'll have at his disposal here, it will be a lot different and I'm sure that's another reason why he's taking this challenge.
"He'll do well here. He'll do a good job for the club."
McLeish may not be able to work with all of Villa's first-choice attackers, though, with England wingers Ashley Young and Stewart Downing both repeatedly linked with transfers.
Manchester United are reportedly interested in signing Young, and Downing has been linked with Liverpool.
McLeish, 52, had been in charge at Birmingham since November 2007 and steered them to Carling Cup success in February, but the season ended in relegation.
Birmingham are now demanding £5.4m in compensation to cover the remaining two years of McLeish's broken contract.
The St Andrew's club have previously accused their city rivals of "tapping up" the former Scotland manager.
The Blues also threatened to report Villa to the Premier League and take out an injunction to block the move and, although neither action has been carried out, they say the matter is not over.