Ballack anger at 'farewell' plan by Germany coach Low
Last updated on .From the section Football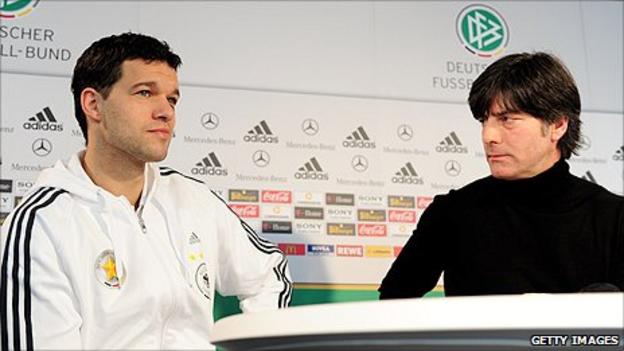 Michael Ballack has reacted angrily to Germany coach Joachim Low's offer to end his international career with a friendly against Brazil in August.
The idea has been proposed with Low saying he does not plan to pick the 34-year-old former captain anymore, with more focus on youth ahead of Euro 2012.
Ex-Chelsea midfielder Ballack said: "To call a friendly match that was arranged long ago a farewell match is a farce.
"I know I owe my fans this match but I cannot accept the offer."
Ballack, who rejoined Bayer Leverkusen last summer after he was released by Chelsea, has scored 42 goals in 98 internationals since he made his debut in 1999.
But he has not played for his country since March 2010 after suffering an ankle injury that ruled him out of last summer's World Cup finals in South Africa, where Germany finished third.
Ballack has since returned from the injury to play for Leverkusen, although Low has not recalled him.
In a statement, Ballack added: "I found out yesterday [Thursday], while on holiday, through an announcement that the national coach does not plan with me [in the squad] any more.
"The style and content of the statement [by Low] are unfortunately exactly like the way he [has] treated me since my serious injury last summer."
Low, whose side have a 10-point lead at the top of their Euro 2012 qualifying group, suggested on Thursday that he had made Ballack aware of his stance.
"I have discussed things openly with Michael Ballack, most recently in our meeting in March 2011 and in numerous phone calls," the Germany boss stated.
But Ballack responded: "The style and content of this piece of news surprised and disappointed me because it does not in any way reflect what the coach told me.
"If now they say that I and my role were treated openly and with honesty then that is hypocritical."