Bolton boss Owen Coyle resigned to losing Gary Cahill
Last updated on .From the section Football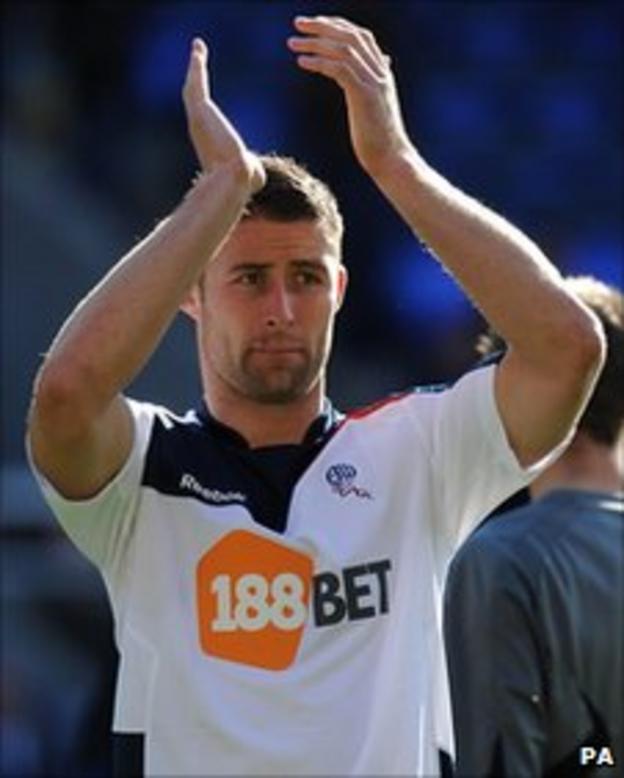 Bolton manager Owen Coyle is resigned to losing Gary Cahill this summer, but insists no offers have yet been made for the England defender.
Cahill, 25, has a year remaining on his contract but has been linked with Arsenal, Liverpool and Manchester City.
"There's been a lot of interest," said Coyle. "You don't have to be a genius to work out some of the top clubs are interested, but nothing's concrete yet.
"I believe he could play for any club - I'd put my reputation on it."
Cahill has been a prized asset since joining Bolton three years ago and his impressive displays saw him earn his first international cap against Bulgaria in September 2010.
However, the centre-back is keen to play European football to enhance his chances of playing for England on a regular basis, and Bolton are expected to demand a fee in excess of £15m for the player.
"It would take a lot of money," added Coyle. "It is up to those clubs to put something firm to the chairman.
"He is not a player we want to lose, I have to stress that, but we have to accept if it is the right deal for the club and the player it has to be done and that then frees up cash for us to invest in the club.
"I would love him to stay. He is a fantastic player for the club and I am not saying I want him to go, but if he does it will be the right business for the club."
Coyle has made considerable progress at Bolton since taking the reins from Gary Megson in January 2010, guiding his side to the semi-finals of the FA Cup last season.
"I am in the market to improve the club and I am looking to make sure we get the right quality to add to the squad and take the team forward," Coyle added.
"We have to make sure when we have targets we are first on the scene for them because if we arrive at the same time as Chelsea or Manchester United we will lose out.
"We hope to have a couple of new faces in by the time we start pre-season on 4 July."