Norwich City boss Lambert rules our foreign imports
Last updated on .From the section Football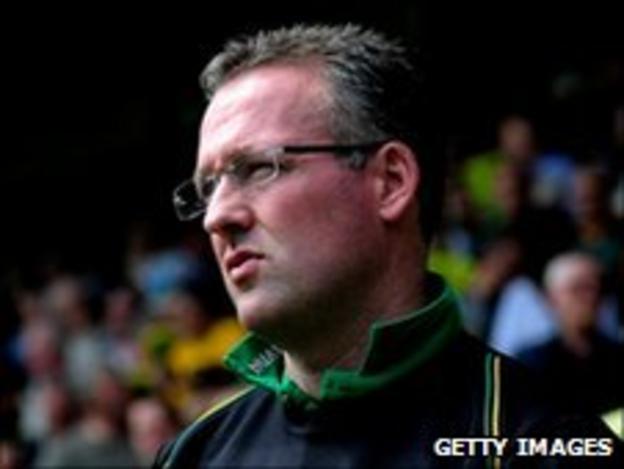 Norwich City boss Paul Lambert has dismissed the possibility of bringing in European talent this season, but has not ruled it out in the future.
The Scot has maintained ties with German football following his time as a Borussia Dortmund midfielder.
He told BBC Radio Norfolk: "I know through experience what German football is like.
"I know a lot of people over there, but we have to get a good foothold in the league first and foremost."
He added: "There's no point me bringing people over here and it's going to take them 15 games to get a foothold. I need people to hit the ground running."
Lambert, who has targeted seven additions to his newly promoted side, has already made three pre-season signings.
Midfielder Elliott Bennett and strikers James Vaughan and Steve Morison have added little Premier League experience to the Norfolk outfit, with Vaughan's eight starts and 39 substitute appearances for Everton making him the only one of the trio to have tasted top flight football.
Only four other City players have notched up games in the Premier League - John Ruddy (one), Adam Drury (33), Leon Barnett (11) and Andrew Surman (seven) - and Lambert has hinted he will not be bucking the trend with future acquisitions.
"They don't have to be Premiership, they might be Premiership, it's just what I think will benefit us and this football club," he said.
"The lads that I've brought in are the lads that are here, I've got no fear of anything, I know how hard it's going to be and we're going to be underdogs in a lot of games.
"But we've earned the right to play at this level. It's been a great two years, the club is moving forward at a terrific rate and we'll try to get a foothold in the league."