Vieira and Woodgate among big names leaving clubs
Last updated on .From the section Football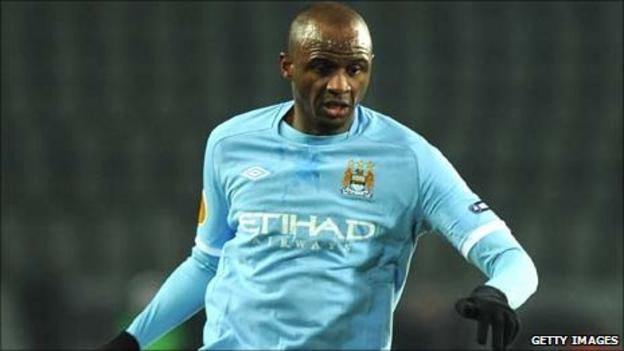 Patrick Vieira and Jonathan Woodgate are among the list of players to have left Premier League clubs this summer and become free agents.
Former France captain and Arsenal midfielder Vieira, 34, leaves Manchester City after only 15 months.
Spurs were unsuccessful in persuading injury-plagued centre-back Woodgate, 31, to agree a pay-as-you-play deal.
Birmingham, West Ham and Blackpool - all relegated to the Championship - have offloaded 32 players between them.
A dozen players have left Birmingham, including Lee Bowyer, Sebastian Larsson, James McFadden, Kevin Phillips and Maik Taylor.
West Ham's England international defender Matthew Upson, Wales centre-back Danny Gabbidon, defender Lars Jacobsen and Jonathan Spector are all on the open market.
Blackpool midfielder David Vaughan's rejection of a new contract means he joins 11 others leaving Bloomfield Road.
Click here for the Premier League Free Transfer List
Here are the pick of the freebies:
PATRICK VIEIRA [midfielder], 34, released by Manchester City
"I really want to stay here because I've loved my time with City and as I said, the fans have been fantastic. I just need to speak to the manager and then with the board and try to find a solution that suits everyone." - 28 May 2011, Man City website.
The former France international's pleas fell on deaf ears as the holding midfielder, who is still regarded as a demi-god at Arsenal, was released by a City outfit bursting at the seams with brilliant, and perhaps more tellingly, young talent.
Future: Does he still think he can play an important role at a top league side or is he willing to swallow his pride and drop down a division. Would a lower league side be able to support his wages? He has been linked with a move to Major League Soccer.
SEBASTIAN LARSSON [midfielder], 26, released by Birmingham
"They [Arsenal] have shown some interest and I should know more in the next few days. I know there is some kind of interest but I cannot currently say whether something can be done or not." - 14 June 2011, Aftonbladet.
The former Blues midfielder, handy at set-pieces, was linked with a move to Newcastle in January but ended up staying at St Andrew's. At that time, City were in the latter stages of the Carling Cup, which they won, and were not faced with the prospect of relegation. What a difference a few months made.
Future: The Swede would be an important cog in most Premier League teams. He has hinted at a return to Arsenal, the club who sold him to Birmingham in 2007. Larsson would be a good, cheap signing for Gunners boss Arsene Wenger.
DAVID VAUGHAN [midfielder], 28, released by Blackpool
"It [the Premier League] was something new to me and I enjoyed playing against some of the best players in the world and that is something I want to continue next season. A couple of clubs have shown an interest." - 15 June 2011, various
Charlie Adam hogged the Blackpool spotlight, and deservedly so, but Wales international Vaughan often proved to be as important a figure in the midfield and was named the club's player of the year. The burly-looking player is swift, has a good brain and brilliant left foot.
Future: Shone in his first year in the Premier League. West Brom and Sunderland have been linked with the player, who made nine appearances for Real Sociedad.
MATTHEW UPSON [defender], 32, released by West Ham
"At least if you're at the bottom of the table there's a bit of drama and passion. I realise fans are probably pulling their hair out but I do want success which, this season, means staying up. It's a rollercoaster here but I've loved it right from the start." - 2 April 2011, The Sun
It seems that Upson fell out of love with the ride by the end of the season. He is an England international with a wealth of experience so surely Upson's voicemail is full with offers from clubs? The centre-back was handicapped by the defence around him at the Hammers, while injuries have also curtailed what, by now, should have been a more celebrated career.
Future: Wolves and QPR have been linked with the former Arsenal and Birmingham player.
JONATHAN WOODGATE [defender], 31, released by Tottenham
"You keep going and you prove those people wrong and you prove those people right who say you will come back." - 17 February 2011, various
Those words were uttered after the injury-prone central defender suffered a groin strain following his first appearance for Spurs since November 2009 - the 1-0 Champions League win over AC Milan in February.
The injury to his left adductor muscle kept him out for most of the season and despite Spurs offering Woodgate a pay-as-you-play deal, the former Real Madrid, Newcastle, Middlesbrough and Leeds defender is now seeking pastures new.
Future: When fit he is regarded as one of the best defenders in the country. Woodgate obviously wants a contract, so which club is willing to take the risk. He made his name at Leeds and reports suggest manager Simon Grayson is ready to welcome him back to Elland Road.
For the latest news on the free players check out our gossip column