Wembley chosen to host 2013 Champions League final
Last updated on .From the section Football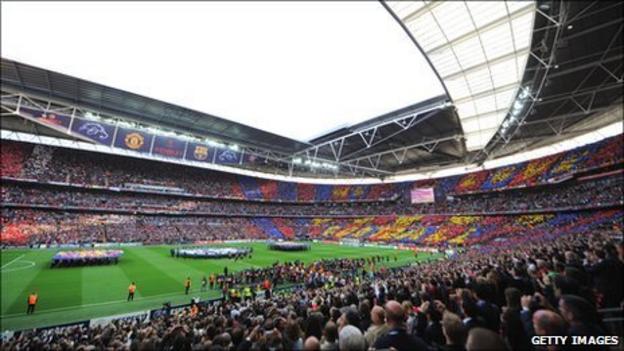 Wembley Stadium will host the 2013 Champions League final, Uefa announced on Thursday.
The match has been awarded to London's showpiece stadium, which hosted this year's final, to mark the Football Association's 150th anniversary.
"This may seem exceptional but I think it was important for us to respect this anniversary of our game," said Uefa president Michel Platini.
Wembley's staging of this year's final was regarded as a resounding success.
Barcelona produced a magnificent performance to beat Premier League champions Manchester United 3-1, inspired by the brilliant Lionel Messi.
As well as being a commercial triumph for Uefa, it also proved to be simple in terms of organisation.
There was no need to book extra marquees for hospitality events, increase facilities for the media or any major technology issues.
Though there has been no official announcement, tickets are expected to be cheaper in 2013.
Platini apologised in April for the high cost of tickets at this year's final and said they would consider introducing a cheaper category for families in the future.
The cheapest tickets on general sale for the 2011 final were priced at £150 plus a £26 administration fee and the cheapest package for one adult and one child was only available in category two seats and cost £338.
"It was a mistake, it was not good. But it is not easy to decide the price of the tickets in the Champions League final," said Platini in April.
"Perhaps in the future we have to have another category for families that is less expensive. But if you put those on the black market how much will they cost?"