Stirling defend cash trials and invite more hopefuls
Last updated on .From the section Football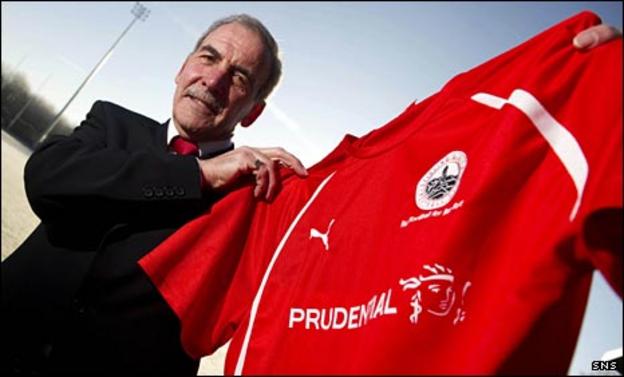 Stirling Albion have defended their pay-for-a-trial scheme and invited along another 17 hopefuls.
Players' union representative Stuart Lovell suggested that it might be more of a money-making exercise for the club than a useful way of unearthing talent.
But, in a statement, the Binos stresses that, as a result, 12 players had been invited to pre-season training.
"We're excited at having uncovered players who could be part of our squad for next season," they said.
"A further 17 players have indicated that they now wish a trial.
"Manager Jocky Scott will invite them in to play in a closed-door match.
"We recognise that this is different to how its been done in the past, but football, in particular in the lower leagues, is facing harsh financial realities and we need to explore new ways of bringing income into our club to pay our running costs, the bulk of which are players' wages.
"We've even been complimented by other clubs for having the initiative to do something like this.
"Every player that paid to take part in the trial was there voluntarily, was aware of the format, including the £200 fee, right from the beginning and was also aware there was no guarantee of a contract at the end of the trial period."
Stirling stress that they had received more requests - from all over the UK and abroad - to take part in the 4 June trial than were eventually invited to the "So You Think You're Good Enough?" initiative.
Those taking part were a mix of players released from professional contracts, former professionals who had dropped out of the game in recent years, amateur players and others who had recently completed football scholarships in the United States.
Four players with past or current experience in Scotland's Homeless World Cup squad were also invited along free of charge.
Of more than 30 who took part, 12 were invited along to two weeks of pre-season training, which started on Tuesday as Stirling became the first senior club in Scotland to do so.
"If the management team decide that any of the players from the initial trial are good enough, we'll be delighted," said the club relegated to Division Two.
"If, after those two weeks of working closely with the trialists, the decision is not to offer any contracts then we'll be disappointed but pleased that it's another route we've explored to find new players for the club.
"We are a community football club which is working hard to put the club on a secure footing. We make no apology for trying new ideas."