Manchester City 'pull out of deal for Alexis Sanchez'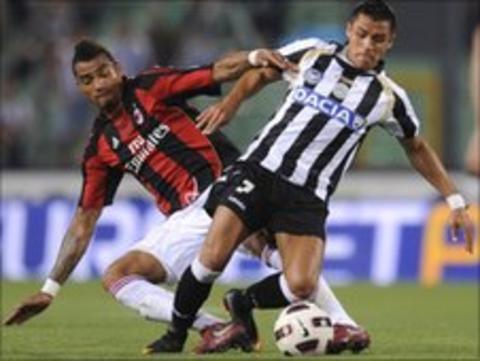 Manchester City coach Roberto Mancini says the club have withdrawn their bid to sign Udinese's Alexis Sanchez.
The Chile international, who is a target of Barcelona, is under contract with Udinese until June 2014.
"I have spoken to Sanchez," Mancini told Sky Italia. "He said he was open to the idea of coming to City but then we have pulled out.
"After our last offer, we are out of the race to acquire the Chilean player."
Gino Pozzo, son of Udinese owner Giampaolo Pozzo, was quoted in Italian newspaper Corriere dello Sport as saying the 22-year-old winger would prefer a move to the Nou Camp rather than Eastlands.
"Have City pulled out of the race?" he asked. "You should ask them. We have not entered negotiations with City. The will of the player is to go to Barcelona. The negotiations with the Catalan club are going forward.
"With calmness, we will find a solution. We will speak to Barca and we will see."
Pozzo has not ruled out the possibility that Sanchez, who is valued by the club at 50m euros (£44.95m), could remain at Udinese next season.
"He [Sanchez] said it yesterday and we have reiterated it in the past," Pozzo said. "It is an option."
Sanchez scored 12 goals last season to help his side finish fourth in Serie A and earn a Champions League place for the 2011/12 season.
Earlier this month, Inter Milan looked to be favourites to acquire Sanchez, but negotiations between the clubs stalled.
City have yet to make a significant move in the transfer market since the season ended, while rivals Manchester United have signed Blackburn youngster Phil Jones, Aston Villa forward Ashley Young and Atletico Madrid goalkeeper David de Gea.
Meanwhile, Mancini is confident Carlos Tevez will remain at the club next season despite the Argentina forward recently expressing his desire to leave.
Tevez, who played a pivotal role in the Eastlands club winning the FA Cup and finishing third in the Premier League, has been strongly linked with a move to Italy this summer.
"Tevez is a good player," Mancini said. "I believe he will remain with us."
The 27-year-old is under contract with City until June 2014 and is reported to be a target for Inter Milan.