Stuart Pearce says England U21s need Spanish arrogance
Last updated on .From the section Football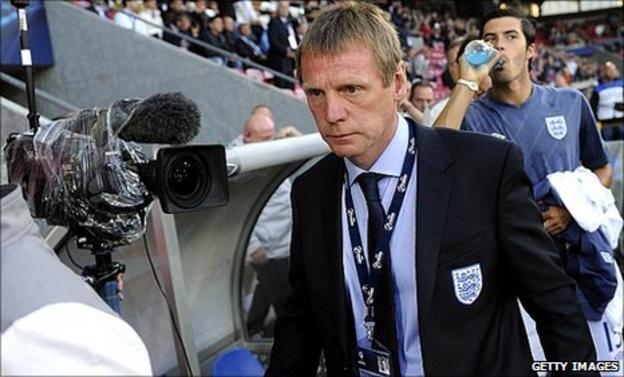 England Under-21 manager Stuart Pearce said his side would have hammered Spain had they had more possession in their European Championship opener.
Danny Welbeck's late goal salvaged a 1-1 draw for England, who were chasing the ball for much of the match.
"If we had kept the ball away from the Spanish team for that period of time over 90 minutes, we'd have maybe won the game 4-0," he said.
"We stuck at it, we kept going, and sometimes you get rewards."
Pearce added that despite the lengthy spells of Spanish possession, he did not feel his side were under tremendous pressure.
"I was sat on the touchline and even though we didn't have possession of the ball, I didn't feel as though the opposition were going to score a goal," he commented.
"It's not often you can say that."
But Pearce said England will need to improve in their next two games against Ukraine on Wednesday and Czech Republic - who beat Ukraine 2-1 in their opener - on Sunday.
"I think we have to learn a real lesson from this going forward," he stated.
"There's more ability in our squad than we probably showed.
"In our possession of the ball, we have to show a touch more maybe of the Spanish arrogance that we saw tonight.
"The heart of the team is fantastic. We'll be a better side and play better as the games go on.
"And we'll be better on Wednesday than we were this evening."
Welbeck's equaliser also spared Spain's goal being the main talking point of the match, with Ander Herrera getting away with a handball.
Pearce said: "I had no idea that it was. It's disappointing to hear that but that's football."
Welbeck added: "We created quite a few chances in the second half and we got more possession. Maybe if we stick away a few more of our chances, we can progress."
Spain head coach Luis Milla admitted his side lost concentration for England's equaliser.
"When the score is close and you are playing well, you have to concentrate better and be more aware of the game," he said.
"We made three substitutions, the first looking to gain ball possession and the second and third to get more attacking players on.
"But England got the second goal, even though I thought we were closer to the 2-0 than the draw."