Mazembe to appeal to Fifa over Champions League ban
By Patrice Citera
BBC Sport, Kinshasa
Last updated on .From the section Football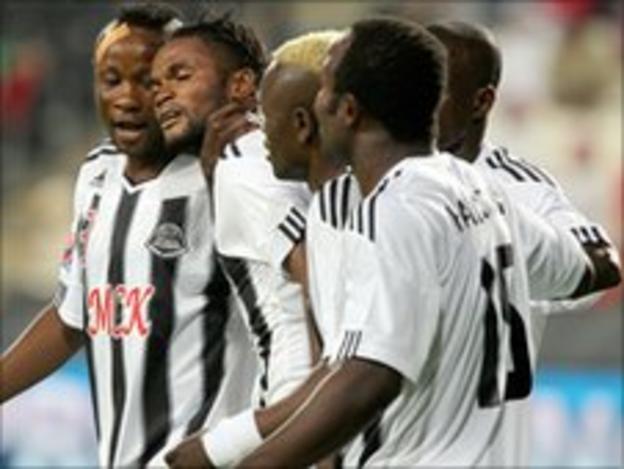 Title holders TP Mazembe say they will take their appeal against their exclusion from the Champions League to Fifa instead of Cas.
Caf disqualified the DR Congo side after Simba complained about the eligibility of Janvier Besala Bokungu.
Mazembe had earlier hinted that the club will take the matter to the Court of Arbitration for Sport (Cas).
But after the deadline for any appeal passed without a word, Mazembe say they are preparing to approach Fifa.
Mazembe beat Simba 6-3 on aggregate in the second round of the tournament but the Tanzanian side appealed against Bokungu.
The Congolese club have hired top Belgian lawyer Luc Misson and his partner Gregory Ernes to fight their case.
Misson was the lawyer who led Jean-Marc Bossman to fight that presaged a worldwide revolution in football transfers in 1995.
Bokungu, a 22-year-old Kinshasa-born defender, was transferred from Mazembe to Tunisian club Esperance in 2007 and rejoined the Congolese club this year.
Reports say he then broke a contract with the Tunis team that runs until June this year, but Mazembe's lawyers insist the Bokungu transfer was legal.
"TP Mazembe cannot be blamed on nothing during the transfer of player Janvier Bessala Bokungu," the two lawyers said in a joint statement on Mazembe's website.
"Bessala was not a player Esperance of Tunisia since March 2010. His contract with the Tunisian club was cancelled with the DR Congo FA approving his transfer to Virunga, the club we bought him from.
"Today Esperance are saying that they still own the player even though they did not pay him a salary and they did nothing to help him secure a work permit while he was in Tunisia.
"What makes this worse is that, Esperance did indicate on their website after the departure of Janvier Bessala in March 2010 that the player has been released from his contract and there is a player who had replaced him."
Mazembe have won the Champions League for the last two years and reached the final of the Club World Cup last season, losing 3-0 to Italians Inter Milan in the final.