Jersey player of the season award goes to Ben Gallichan
Last updated on .From the section Football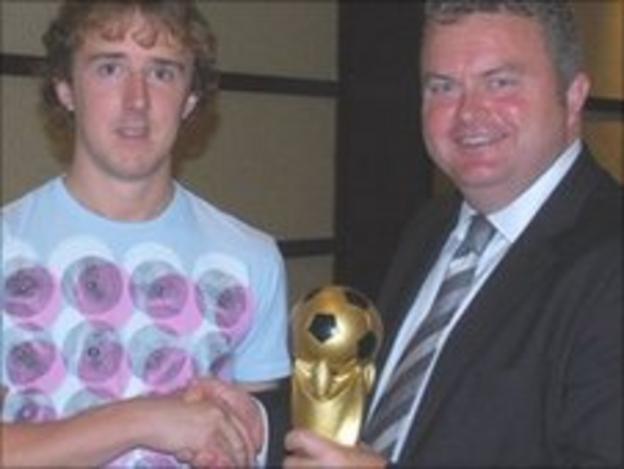 Jersey Wanderers attacking midfielder Ben Gallichan has been crowned Jersey's Premiership player of the season.
Former winner Stuart Andre, along with Joe Murphy and Luke Watson, were the other nominees for the trophy.
"I'm absolutely delighted," Gallichan told BBC Radio Jersey. "It's a bit of a shock, I didn't really think I had a chance of winning."
The island's ladies player of the season award went to St John's Fiona MacKinnon.
Other winners at the Jersey Football Combination ceremony in St Helier included Ross Philpott (Rozel Rovers), who was named Championship player of the season.
The Sportsmanship award was shared amongst three club linesmen, who each gave close goal-line decisions against their own team.
Geoff Liron (First Tower United), Jerry Luce (St Clement) and Richard Parker (St Ouen) shared the honour.
Mark Le Cornu was crowned referee of the season.
Jersey Football Combination president Tim Darwin said: "I think we've had a very good season, both behind the scenes and on the pitch.
"It was an excellent season for St Paul's and congratulations to Ben Gallichan from Jersey Wanderers, who themselves had a good season."