Michael Chopra departure surprises Nathan Blake
Last updated on .From the section Football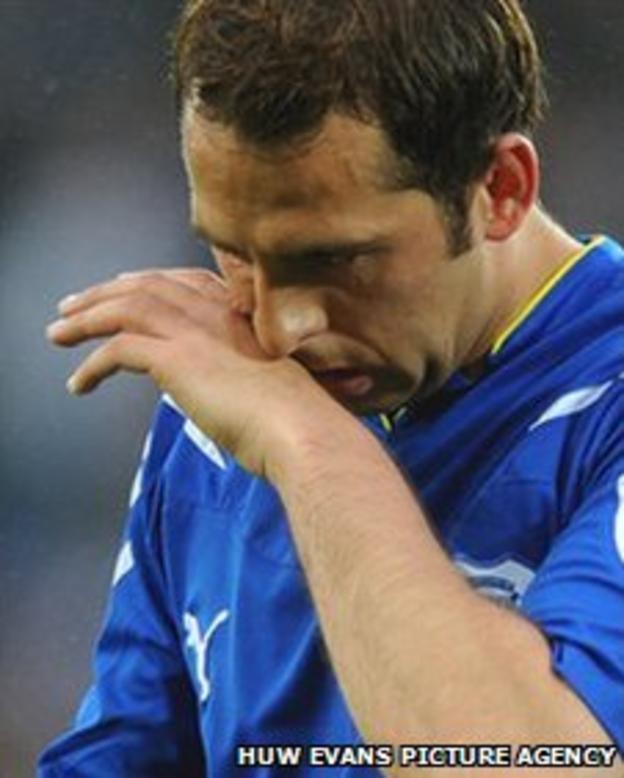 Ex-Cardiff City forward Nathan Blake says he is surprised at the sale of striker Michael Chopra to Ipswich Town.
But Blake believes the departure, in an estimated £1.5m deal, of one of Cardiff's higher earners could signal cost-cutting measures by the Bluebirds.
"I thought... [Chopra] would have been critical to Cardiff's promotion push next season," Blake said.
"A little surprised, yes, but also... the flip side of that is he was one of the larger wage earners."
Cardiff are in a period of upheaval after a season that again promised so much but ultimitely ended in failure with their play-off semi-final defeat to Reading.
Long-serving manager Dave Jones has been sacked and the likes of players Jay Bothroyd, Chris Burke - both as free agents - Chopra and Adam Matthews have also left the Cardiff City Stadium.
Blake admits that Chopra's form dipped last season but says there are obvious reasons for his goal-scoring slump.
"I still think he looked half-decent but I didn't think he looked as sharp as say the season before last," added Blake, speaking on BBC Radio Wales' The Back Page programme.
"But form is something you have to play games [to get] and you have to say 90% of the time he was coming off the bench this season.
"So it's difficult to play yourself into form when you're always sat on the bench... and psychologically it messes with your confidence, especially if you're a striker.
"He's not an impact player, he's the kind of player you play from the beginning and nine times out of 10 he's going to get you a goal.
"So for me there should have been a way of fitting him into the team structure more often... he's got goals in him and you can never have enough goals in your team."
The appointment of a new manager is thought to be imminent, with ex-Newcastle United manager Chris Hughton and Watford boss Malkay Mackay two leading candidates, while former Barnsley manager Mark Robins has revealed he has been in contact.
Whoever the new appointment is, Blake believes the new boss will have to operate on a reduced budget compared with previous seasons and also make some root and branch changes.
"It certainly looks as though Cardiff are going to be scaling down on their outgoings," Blake said.
"You just need to go back to the drawing board. Whoever comes in is going to have to look all the way down to the coaching structure, the scouting structure, getting the right players in at the right age.
"Obviously they're going to need to pick up some free transfers... and if there is any money then sign one or two very experienced players.
"It is all going to depend on the manager, because you get the right man in and you don't need to spend millions and millions of pounds to get out of the Championship.
"You just need to have a good team ethic, know what you're doing, play to a certain philosophy and you can get out of that division.
"Anyone who thinks you need to spend, spend, spend. I think they way that Cardiff did it the season just gone... you're taking a massive risk."