English players call for Britain United at Olympics
Last updated on .From the section Football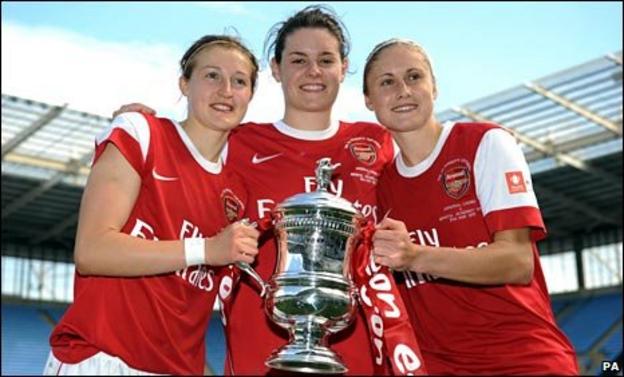 England midfielder Fara Williams says it would be unfair if Northern Irish, Scottish and Welsh players were denied a place in Britain's Olympic squad.
The other home nations say they will play no part in London 2012 because they fear a precedent would be set by a united team.
"Why should other things get in the way of things that you want to do as a footballer?" said Everton's Williams.
"It's disappointing and unfair they're not going to be allowed to take part."
As it stands, the British women's Olympic football team will only consist of English players unless the other home nations' football associations relax their stance.
The Celtic nations are worried that a united team in the men's or women's events would lead to calls to end their separate status in major tournaments, despite reassurances from world governining body Fifa.
A number of Scottish players are thought to have sought legal advice over their position with regards to taking part and there are candidates from the other home nations who could make a British squad.
"For some of the international players, it would've been a massive opportunity for them," said Williams.
A British women's team were also eligible to play at the Beijing Games in 2008 but were prevented from playing because of the same issue.
And the British Olympic Association is determined that will not be the case this time around and are in talks with all the home nations on the issue.
The BOA is confident that all the home nations will agree to participate in the formation of a team as they believe an England-only squad would defy the Olympic Charter.
Talks are expected to continue next week about the team's make-up, but Scotland's First Minister, Alex Salmond, in recent days has given his backing to the Celtic nations' stance.
However, it is also understood that players are free to participate in a British team regardless of their country's wishes.
Arsenal striker Julie Fleeting, who has won more than 100 caps for Scotland, would almost certainty make a British squad, while compatriots and club-mates Kim Little and Jennifer Beattie could also feature.
Welsh international Jayne Ludlow is another Arsenal player who would be likely to make the cut.
Fellow Gunners midfielder Steph Houghton feels the British team should be representative of all the home nations.
"The Scottish internationals in our squad are among the best around and it would be a shame not to have those players involved at the Olympics," said Houghton, who was speaking after being included in England's squad for this month's World Cup in Germany.
"They deserve to be playing in major tournaments and you don't get a much bigger stage than playing an Olympics in London."