Newcastle move would suit Neil Taylor - Dean Saunders
Last updated on .From the section Football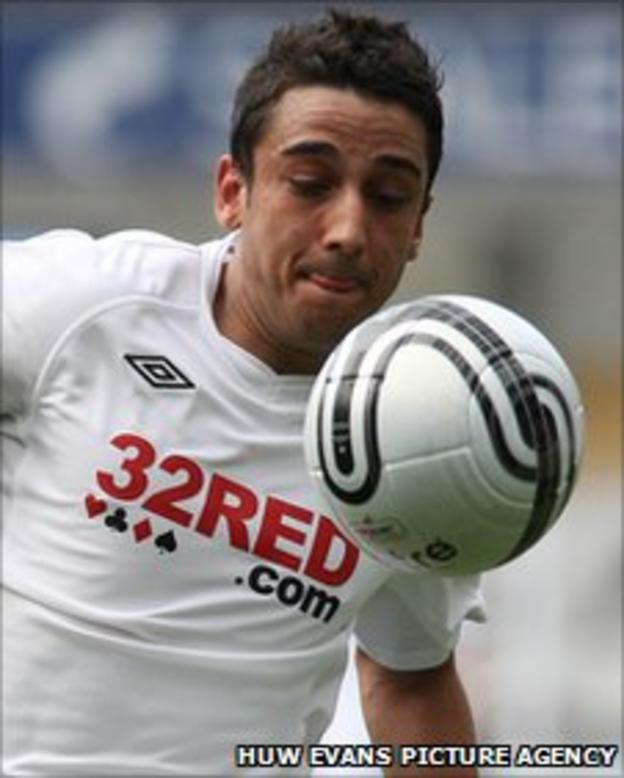 Wrexham boss Dean Saunders believes a move to Newcastle would benefit Swansea defender Neil Taylor's career.
Wrexham would benefit financially if ex-player Taylor was transferred to another club.
"It's a great move for him because Newcastle - I've been there obviously as assistant manager - is a brilliant club," said Saunders.
"Swansea is a great club as well but hopefully things turn out right for Neil. He's got a great attitude [and] he's always worked hard."
Swansea signed Taylor from Wrexham at the start of last season for a tribunal-fixed fee of £150,000 plus 10% of any future transfer profit.
Taylor made his first appearance for Wales during the 2-0 friendly in Croatia last May and has since won two further caps.
He missed Swansea's Championship play-off final win over Reading last month due to suspension having made 30 league appearances last season.
And Saunders believes that Taylor has thrived since he moved to Swansea, a club where the Wrexham boss began his own career.
"It was great move for him to go to Swansea," said Saunders.
"He'll find it a lot easier to play that type of football than in the Conference where he's getting balls banged on top of him all the time.
"In the Football League they play a bit more football and they play even more football in the Premiership.
"If he goes for £1m we've got a 10% sell on so that will be a good deal all round for everybody."