League agrees to new Uefa financial regulations
Last updated on .From the section Football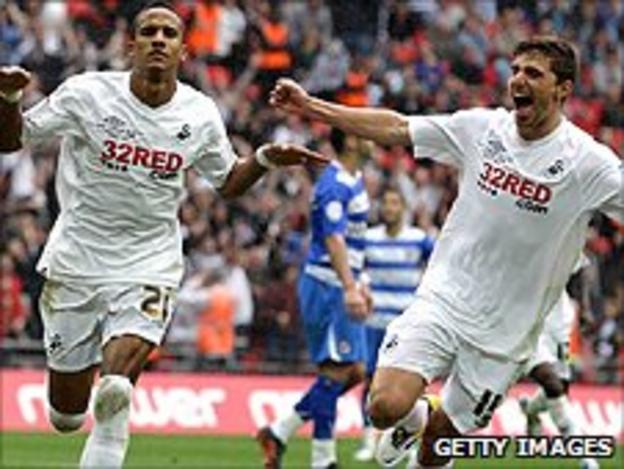 The Football League says its clubs have agreed in principle to adopt Uefa's financial fair play system.
Uefa has introduced the rules to try to make sure that clubs balance their books and break even.
The 72 league clubs, faced with increased levels of debt, agreed "in principle" to the regulations at their annual meeting.
"This is a very important step forward for professional football," said Football League chairman Greg Clarke.
"It will help our clubs exert greater control over their finances.
"Much more work needs to be done, but I am hugely encouraged and impressed by the energy and focus of our clubs on this issue.
"They have been the catalyst for change and have shown a real desire to self-regulate in this area. I congratulate them on taking this bold step."
The Football League clubs voted in favour of the new measures at the meeting in Cyprus following a presentation by Andrea Traverso, Uefa's head of club licensing and financial fair play.
Debt in Football League clubs now totals approximately £700million, Clarke told BBC Sport's Paul Fletcher earlier this week, "and more than 80% of this is in the Championship".
The Championship clubs agreed to work towards the new regulations being "developed and approved by the beginning of the 2012/13 season".
League One clubs have also agree to introduce the Salary Cost Management Protocol (SCMP) from next season, where teams will only be allowed to spend a fixed proportion of their total turnover on player wages.
The SCMP already operates in League Two at the 60% threshold, which will be reduced to 55% from the summer.
FA chairman David Bernstein described the Football League's announcement as "very encouraging".
He said: "I welcome the Football League's new cost control measures. The FA supports these regulations and they are a welcome step in the right direction.
"While giving evidence at the Select Committee in March, (FA general secretary) Alex Horne and I called for such measures.
"I would like to congratulate Greg Clarke and all at the Football League for their continued progress in this area."