Five more signings needed at Notts County - Allen
Last updated on .From the section Football
Notts County manager Martin Allen says he needs five more new signings to make the club competitive in League One.
The Magpies have signed Ishmel Demontagnac, Julian Kelly, Jude Stirling and Alan Sheehan so far.
Allen told BBC East Midlands Today: "We are still five players short. If they sign those contracts we can do OK but if they don't then we're struggling.
"A lot is going to be dependent on which players are signed in the next four to six weeks."
Allen is still hopeful that the former Nottingham Forest, West Ham and Aston Villa striker Marlon Harewood will sign for the League One club.
The Notts boss spoke with Harewood at the beginning of the month and says he is still keen to persuade the former Forest favourite to sign at Meadow Lane.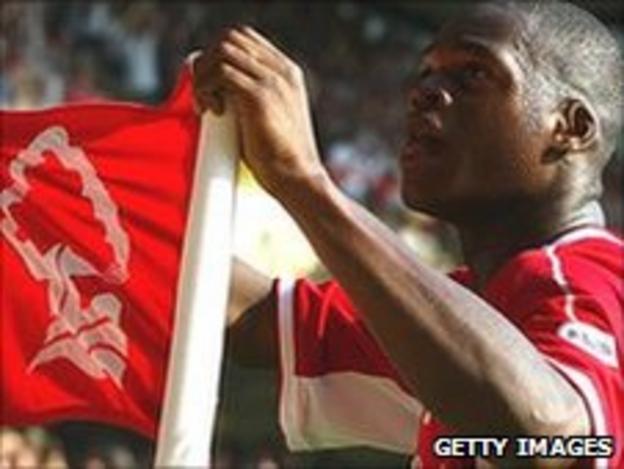 "We are still waiting for Marlon and his agent to come back to us," added Allen.
"We did leave it as an open offer, there is no deadline for Marlon. We respect and understand that there will be other offers on the table.
"He came and sat down with us for two and a half hours in my dingy little office and I explained to him, with the chairman [Ray Trew], what we are trying to do.
"Marlon liked it, he would have been gone out of here after 20 minutes if he didn't.
"What I will say about him is that he is such a down to earth, decent, humble man and he was excited by it.
"If he could play Premier [League] still or top of the Championship he will prefer that but if not, he knows he can come here and be well looked after."
Allen also revealed he is behind a move to brighten up the area in and around the Meadow Lane changing rooms.
"It was all so bland, so old fashioned. There's tiles on the wall, like from when I used to go swimming at eight years old in Reading," he said.
"There's white square tiles in the dressing room, just dull, bland and horrible.
"There's nothing about the history of the oldest club in the world, no logos, no banners, there's no inspirational moments with pictures, no mission statements.
"Kindly the club have set about the work I proposed and they are now painting and decorating.
"The media department are getting photos going back 150 years or so to give some appreciation of what this club is all about, like pictures of the great Tommy Lawton."