Wrexham's Dean Saunders backs Jake Speight goal touch
Last updated on .From the section Football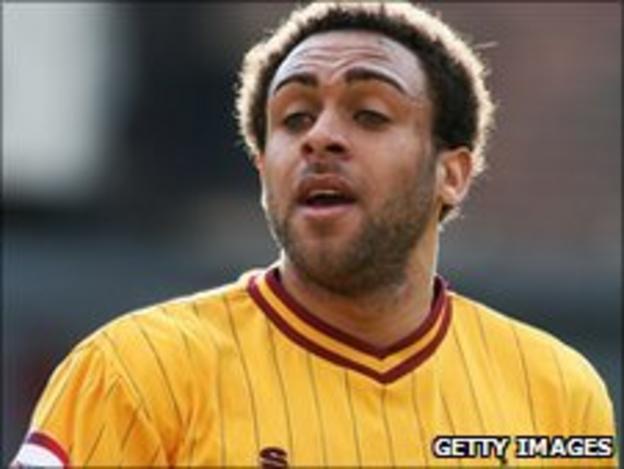 Wrexham manager Dean Saunders is confident that new signing Jake Speight is the man to replace last season's top-scorer Andy Mangan.
Mangan, 24, hit 16 goals last season but will join Fleetwood Town on 1 July.
Speight's career stuttered at Bradford City last season, but he was Mansfield Town's top scorer with 17 goals from 33 appearances in the 2009/10 season.
"Losing my leading goal-scorer is not ideal... I understand that and the fans will be disappointed," Saunders said.
"But we have to go on and I have to find somebody else who can get more goals than him [Mangan] and hopefully Jake's our man.
"I'm thrilled that he's on board with us, he's a player I've watched for a long time.
"He scored a lot of goals when he was at Mansfield and I tried to take him then, but Bradford paid £25,000 for him - Peter Taylor signed him - and it was too expensive for us.
"He's had a season at Bradford, it's not gone brilliant there, and I've managed to dive in and get him.
"He's quick, strong and exactly what we need. He's probably as quick [as Mangan], but if I could describe him as anyone it would be a Julian Joachim type or Robert Earnshaw, that type of player."
Saunders admits that the ongoing financial problems at Wrexham have had a knock-on effect on his efforts to build a squad that will win promotion back into the Football League.
Last month businessman Colin Poole - who had been pledged financial support for a takeover at Wrexham FC - pulled out after what he called a confrontation with some fans.
A bid by the Wrexham Supporters' Trust to take over the Dragons is still ongoing, although new managing director Jon Harris is reported to be seeking alternative cash support from other sources.
The uncertainty at the Racecourse Ground has left Saunders to operate under a cloud of uncertainty.
"I'm just getting on with that, obviously off the pitch nothing has changed much. It's still up in the air a little bit," Saunders added.
"It is difficult to work under those circumstances but I've got my budget to work to and really I've had to be a bit ruthless with some of the players we had last season and let them go.
"I have to carry on and keep improving the team somehow. If you gave me the budget I've got now and said 'go on, start from scratch' I couldn't do it.
"But because I've spent a couple of years building the team it's just a case of just adding two or three that I think are better than what we've got."
One possible cash windfall for Wrexham is the potential sale of former left-back Neil Taylor, who joined Swansea City last summer on a three-year contract for £150,000.
Newcastle United are understood to have tabled a £1m bid for the 22-year-old and Wrexham will receive 10% of any profit over that £150,000 if the Wales international is sold.