Bristol Rovers captain Stuart Campbell's role in doubt
Last updated on .From the section Football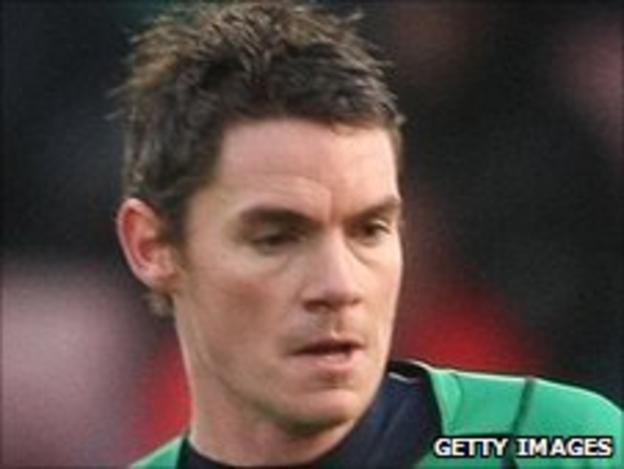 New Bristol Rovers boss Paul Buckle has said the future of skipper and former caretaker manager Stuart Campbell at the club remains to be decided.
"As soon as Stuart's back from holiday, we'll sit down and have a chat," Buckle told BBC Radio Bristol.
"I know how close he is to supporters' hearts but it's vital we get it right."
Veteran midfielder Campbell, 33, was put in temporary charge following the departure of Dave Penney in March, but was unable to rescue the side from relegation to League Two.
Speaking on his first day at the club after his appointment late last month, Buckle added: "It's vital that everyone at the club has a purpose and shares the ambition that I've got.
"I've got to meet people and speak to them, and Stuart's no different. He's been a great servant at this club, and if that's to continue then great.
"But it might not be right for Stuart. I don't know until I meet him."
Buckle has already brought three players to the club, with former Torquay loanee Craig Stanley's arrival on Tuesday following that of Gulls keeper Scott Bevan and former Norwich midfielder Matt Gill on Monday.
But Buckle insists it is not a question of "jobs for the boys".
"None of them are friends," he said. "I'm not someone who's just going to bring players to the club to make my life easy. It's about bringing in the people who will help us win games.
"I'm here to win."
He also acknowledged the need to recruit strikers, and acknowledged the calls for former Pirates favourite Jamie Cureton to return to the club.
"Jamie's someone who's available. He's a top striker who scores goals, but I am meticulous in my approach on signing players," he added.
"In management, you have to be careful that you don't just go for players who are heroes. They've got to be right for the club."
Meanwhile, Buckle confirmed that defender Danny Coles may be on his way out of the club, after being linked with a move to League One Exeter City.