Peterborough to approach Dagenham's Danny Green
Last updated on .From the section Football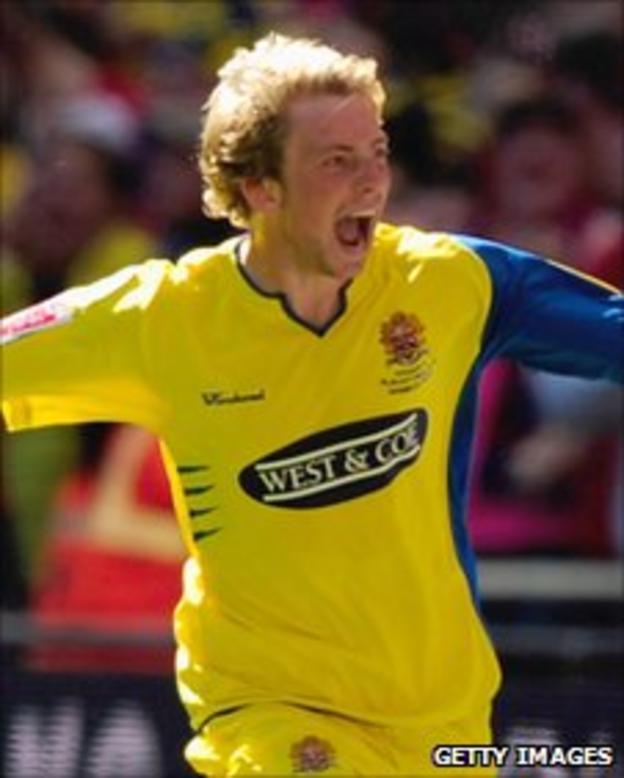 Peterborough will make a move for Dagenham winger Danny Green, says Posh director of football Barry Fry.
Green, 22, notched 13 goals and claimed 12 assists as the Daggers were relegated from League One this season.
And Fry says he has already spoken to Dagenham boss John Still about the former Bishop's Stortford wide man.
"We are aware that people like Ipswich and Crystal Palace are in for the boy as well," he told BBC Radio Cambridgeshire.
"But we're very hopeful that might be concluded over this week."
Fry, who is currently in Cyprus for the Football League chairmen's annual meeting, is also hopeful of resurrecting a deal for MK Dons striker Sam Baldock after talks broke down last week.
He said he will talk to Dons chairman Pete Winkelman.
"We're due to meet and discuss it further," said Fry. "The chairman has given me the go ahead with a very substantial amount of money, hopefully when I come back at the weekend a deal will be done.
"They want the fee up front, he has had a couple of injuries and I'd be more comfortable in paying it after he's played the games.
"I think we'll sit round the table and compromise one way or the other.
"Normally if the manager identifies a player I end up getting him one way or another."
And Fry added a move for Bournemouth defender Jason Pearce is not dead in the water, although a sell-on clause for the 23-year-old's previous club Portsmouth has proven a stumbling block.
"I agreed a deal with Bournemouth, again it was a substantial amount of money, and then Bournemouth opened up their file and unfortunately they found they had a 50% sell-on which, unbelievably, they didn't know anything about," Fry explained.
"They've changed the goalposts somewhat, we've spoken to the boy, he wants to come to us, he's gone to Egypt on holiday and he's very upset about going because he wants to get the deal done.
"I've spoken to Steve Cotterill, the Portsmouth manager, to try to get the percentage down, it's really Bournemouth's job.
"We're still hopeful of that but it's a surprise it's come out of the woodwork."
Meanwhile, Fry said there had been a surge of interest in unwanted pair Charlie Lee and Chris Whelpdale, with seven clubs in for Lee and six sides keen on Whelpdale.