Danny Graham will thrive at Swansea, says Robert Page
Last updated on .From the section Football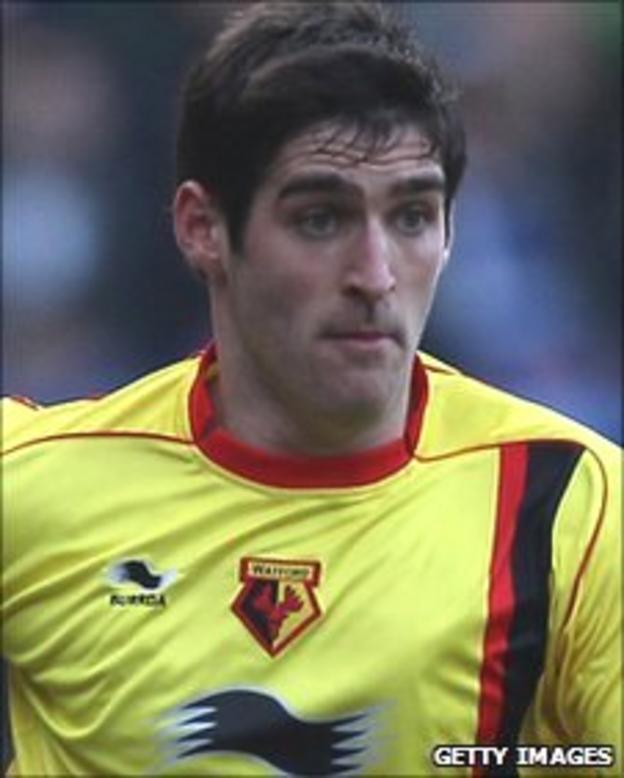 Former Watford captain Robert Page believes Swansea have got a hard-working and quality player in striker Danny Graham.
The Premier League newcomers have paid a £3.5m fee to Watford for the 25-year-old's services.
And Page, who played for the Hornets in the Premier League, says Graham will be a good addition to the Swans squad.
"For me it's definitely a good signing. He's a proven goal-scorer, certainly at Championship level," said Page.
"I've done a few radio games for Watford and every game I've done I've been very impressed by Danny Graham.
"Obviously the step up from Championship to Premiership is a big step. At that top level Danny Graham will be playing against the best defenders in that league.
"Given half a chance he's going to need to put it away. He's going to be judged on his goalscoring. It's going to be a tough but enjoyable opportunity for him."
Having watched Watford on a number of occasions this season, Page says Graham always made a valuable contribution to the side.
The striker, who joined Watford from Carlisle in 2009, was top scorer in the Championship last season with 24 goals.
"The thing that stood out for me was his work rate," added Page, who also played for Cardiff City and Coventry City.
"He didn't stop running every game that I saw. He created so many opportunities for himself just by his own work rate.
"He will make everything work for himself and I was really impressed with his work-rate for Watford.
"Not only did he create chances for himself by doing that he certainly helps the team around him."
Swansea have developed a reputation for playing attractive, possession football; usually deploying a lone striker with two wingers either side.
Watford's style is far more direct says Page, but he believes Graham has the ability and intelligence to quickly adapt to a different way of playing.
"But every ball that's played into him he takes care of and there's not too many passes that go astray with him," said Page, who won 41 caps for Wales between 1996 and 2006.
"He's a good target man as well providing he's got the service. I've been impressed by Swansea these last couple of months and I think he'll definitely fit into their style of play."
Brendan Rodgers' side, Page believes, do not have to compromise their style of play in order to survive in the Premier League.
"There's no reason why Swansea can't give themselves a fighting chance," said Page.
"Blackpool have shown that by going up and trying to play they nearly survived.
"I understand Tony Pulis at Stoke, he's got a different philosophy on football and he likes to play a bit more direct.
"He's got pure athletes in his team that are big physical lads and they play to their strengths.
"It's whatever suits the manager and the manager's philosophy.
"What Swansea have achieved this year, they can't now go changing too much. I wouldn't change too much.
"There are no expectations on them to stay up. If anything they're expected to come straight back down, so just go and enjoy the experience.
"Why can't they stay up and surprise a few people?"