England deserters puzzle Sir Trevor Brooking
Last updated on .From the section Football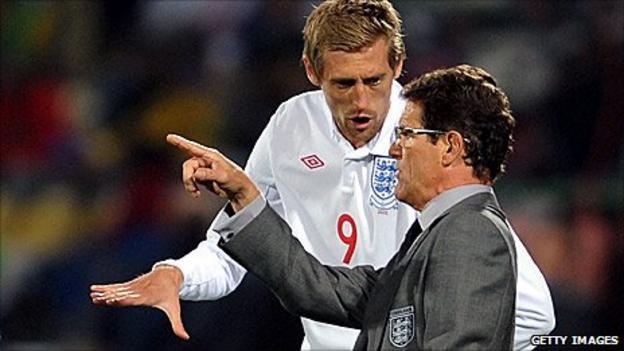 Sir Trevor Brooking cannot understand why a growing number of players are turning their backs on England.
Tottenham's Peter Crouch is reported to have said he will not play for England again while Fabio Capello is manager.
Manchester United's Wes Brown and Blackburn's Paul Robinson, both 31, retired this season, while Birmingham keeper Ben Foster is on a sabbatical.
"No matter what people think about individuals, you turn up regardless," said Brooking, who won 47 England caps.
"It is about playing for your country. I would have turned up if I was number 23 in the squad."
Target man Crouch has started only five games during Capello's 37-match reign and did not make the bench for Saturday's Euro 2012 qualifier against Switzerland, which ended in a 2-2 draw, despite England being reduced to three fit strikers.
The 30-year-old, who made his England debut in 2005 and has scored 22 goals in 42 international appearances, was reported to be feeling humiliated after being left out of the side.
But while Brooking, the Football Association's director of football development, was reluctant to write Crouch off, he was critical of those who have chosen their clubs over country.
Spurs winger David Bentley rejected the chance to play for England in the 2007 European Under-21 Championships, while Arsenal's Jack Wilshere, who played for the senior team against Switzerland, has pulled out of this year's tournament, citing fatigue.
Speaking to BBC Radio 5 live's Sportsweek, Brooking continued: "We had one or two issues with age group teams."
"There appears to be a reluctance with one or two youngsters to get that tournament experience.
"I come from a generation where I couldn't even contemplate such a thing. I find it amazing."
"There are great rewards out there. You can become a multi-millionaire as a club player without playing international football.
"But international football is about individual pride and wanting to perform at the highest level.
"If I got picked at 41, I would have played, even if I thought I would make a fool of myself. I just wanted to play for my country."