Agent says Mark Hughes exit not linked to vacancies
Last updated on .From the section Football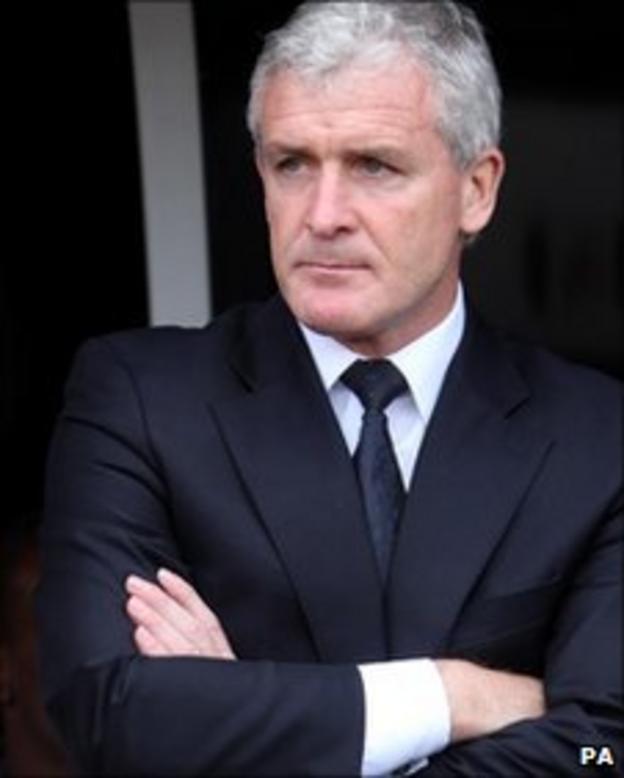 Mark Hughes' resignation as Fulham manager was not connected to the vacancies at Aston Villa and Chelsea according to his agent Kia Joorabchian.
Joorabchian told BBC Radio 5 live's Sportsweek: "[The timing] was an unfortunate circumstance.
"You all realise Mark Hughes is a sincere man. He wouldn't do that."
Joorabchian suggested that the 47-year-old Welshman was motivated by a desire to manage a bigger club than the Cottagers.
"As a manager he has ambitions to really compete at the top level and be the best he can," Joorabchian added.
"[Fulham] are where they are. They are a great top-10, mid-table club and I think Mark really wants to be right up there competing in the Champions League positions, up there competing for titles. He'd like to win some cups."
Hughes cut his managerial teeth with the Wales national team in 1999 before being appointed Blackburn manager in 2004.
He spent four years at Ewood Park but left in June 2008 for Manchester City, where he spent 18 months in charge before being sacked.
Hughes returned to the Premier League at Fulham in the summer of 2010 and had been in talks about a new contract prior to his resignation.
"He wanted to tell them and give them plenty of time and there was no better time to do so than at the end of the season," Joorabchian continued.
"This has nothing to do with Aston Villa or Chelsea or any other club.
"He thought if he signs a two-year contract and buys players in the transfer market but all the time [is] looking over his shoulder thinking if a bigger job comes along, a top-four club, or maybe a place in Portugal, Spain, Germany, Italy that allows him to compete, then he'd be keen to move and that would be unfair to Fulham.
"Mark Hughes made the decision to leave Fulham purely and simply because he didn't want to commit to two years and then disappoint them by leaving in the middle of his contract."
However, Hughes' decision at the end of a season in which he had guided Fulham to an eighth-place finish and a spot in the Europa Cup via the fair play league, came as a shock to striker Bobby Zamora.
"It was a total shock, him resigning," said the 30-year-old England forward.
"I was surprised. There was no hint of it. It leaves us waiting for another manager.
"It was going well. Everyone had bought into his ideas and were just starting to play the way he wanted.
"But Mark has got his reasons. I don't blame him at all. It's one of those things. Managers and players come and go."
Joorabchian refused to be drawn on whether former Chelsea striker Hughes would be returning to Stamford Bridge in a coaching capacity.
"I'm sure they have their own planning," he said. "We have not spoken to them. They have not spoken to us.
"He knows the club well but it would be disrespectful of us to say 'yes, we'd like to go there'.
"It's a case of Mark sitting on the sidelines and seeing what opportunities are there and throughout Europe."
Chelsea captain John Terry has already admitted that he would welcome the appointment of Hughes.
Meanwhile, reports in the Sunday papers suggest Blues owner Roman Abramovich is keen on pairing Guus Hiddink and Hughes as a managerial team.
Dutchman Hiddink, 64, who is coach of Turkey, had a spell as caretaker manager at Chelsea following their sacking of Luiz Felipe Scolari in February 2009, guiding the Blues to an FA Cup final victory.