Africa Cup of Nations qualifying as it happened
Last updated on .From the section Football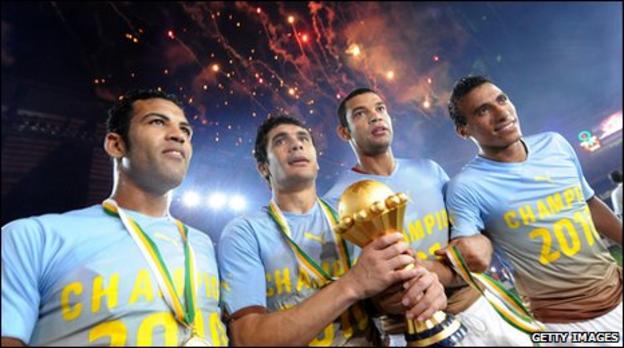 All the action as it happened from Sunday's matches in the 2012 Africa Cup of Nations qualifiers.
Group E:

Mauritius

1-2

DR Congo -

Result
Group C:

Comoros

1-1

Libya -

Result
Group K:

Botswana

0-0

Malawi -

Result
Group A:

Zimbabwe

2-1

Mali -

Result
Group B:

Ethiopia

2-2

Nigeria -

Result
Group H:

Benin

2-6

Ivory Coast -

Result
Group I:

Swaziland

1-2

Sudan -

Result
Group H:

Burundi

3-1

Rwanda -

Result
Group D:

Central African Republic

2-1

Tanzania -

Result
Group J:

Angola

1-0

Kenya -

Result
Group A:

Liberia

1-0

Cape Verde -

Result
Group B:

Guinea

4-1

Madagascar -

Result
Group K:

Tunisia

5-0

Chad -

Result
Group G:

Egypt

0-0

South Africa -

Result
2039GMT: Final word from the BBC's Matthew Kenyon is that the crowd in the Military Stadium in Cairo are calling for Egypt coach Hassan Shehata to quit - a man who has lead the Pharaohs to the last three Nations Cup titles.
2025GMT FINAL SCORE Egypt 0-0 South Africa. The reigning African champions poor qualifying campaign continues and they cannot now win Group G and so must look at getting one of the best runners-up spots and that seems unlikely too they are still bottom of the table. South Africa stay top of the group three points clear of Niger.
2020GMT: Gedo goes down in the penalty area Egyptian players and crowd want a penalty - they don't get it. We are now into seven minutes of stoppage time at the end of the game.
2017GMT: Just had my maths head on and if this ends in a draw then Egypt cannot win the group and their only hope of going to the finals to defend their title is by getting one of the two best runners-up spots - and even that seems unlikely.
2011GMT: The mood in the Military stadium in Cairo is changing as Egypt are getting desperate both on the pitch and in the stands. El Hadary races out of his area to head clear and then has to play football but loses the ball and is grateful to see a South African lob go wide as he races back to his goal. South Africa are starting to waste time.
2005GMT: An anonymous texter from Zimbabwe says: The party in Harare tonight you would think Zimbabwe had won the Nations Cup.
2001GMT: Just over 15 minutes left in Cairo and South Africa are looking keener and but both sides are living dangerously at the back - Gedo heads just wide. Matthew Kenyon says its technically poor but great to watch!
1952GMT: Things warming up in Cairo says the BBC's Matthew Kenyon - Egypt have had a couple of decent chances and then South Africa go close on the counter-attack but still no goals!
1945GMT: Still no goals in Cairo - Egypt make a change as Mohamed Zidan is replaced by Mohamed 'Gedo' Nagy, the top scorer at the Nations Cup in Angola last year.
1935GMT: And we are into the final 45 minutes of football for the weekend - Egypt v South Africa is back underway.
1915GMT HALF-TIME EGYPT 0-0 SOUTH AFRICA: Mohamed El Mohamedy has snap shot that is saved and that's the last action of the half.
1907GMT: El Hadary to the rescue again for Egypt as a defensive error allows Katlego Mphela through on goal but his rather poor shot is blocked by the keeper.
1900GMT: South Africa really should be in front in Cairo as Siyabonga Sangweni's shoots wide after his initial header is only parried by Egypt keeper Essam El Hadary - but its still 0-0 with 30 minutes played.
1855GMT: FINAL SCORE Tunisia 5-0 Chad. A hat-trick from Issam Jemaa helps Tunisia to an emphatic win over 10-man Chad in Sousse. And all those goals have helped the Carthage Eagles move into second place in Group K above Malawi on goal difference. And remember the runners-up in this group qualify for the finals.
1847GMT: FINAL SCORE Guinea 4-1 Madagascar: And that means Guinea stay top of Group B and are three points clear of second-places Nigeria, who could only manage a draw in Ethiopia earlier. Nigeria host Guinea in the final round of qualifying in October - could be a decider although The Syli Nationale really did help their goal difference today.
1845GMT: We've had 15 minutes in Cairo and Matthew Kenyon says both sides look vulnerable at the back but its hosts Egypt who have had the better chances to take the lead but it's still 0-0. Both sides are making errors.
1835GMT: BBC's Matthew Kenyon says Egypt have created all the early pressure forcing two corners in the opening five minutes of the game.
1831GMT: The Egyptian anthem is sung with real passion and then it's down to business and we are underway in Cairo - the final game of the weekend.
1830GMT: Farai Kuvirimirwa e-mails to say: Congratulations to my team the Warriors of Zimbabwe. And all the best to Bafana Bafana on the hunting mission in Egypt!
1826GMT: Tunisia have made a couple of changes against 10-man Chad - Iamjed Chedoudi replaces hat-trick hero Jemaa and then Adel Chedli replces another goal scorer Oussama Darragi.
1821GMT: A text from a magnanimous Nigeria fan Obinna in Lagos who says: Must commend Ethiopia for their excellent match. Few people will be more surprised than Super Eagles fans, who are gradually beginning to elevate Siasia to cult status! Well, last time Nigeria won the Nations Cup, we drew goalless in Addis before thumping Ethiopia 6-0 in Lagos! In fact, the Lagos match was Sunday Oliseh's international debut. Just praying that this time, we'll have a similarly thrilling ending to the story, come 2012!
1817GMT: So I have several e-mails with the news that its Guinea 4-1 Madagascar. Apparently the Guinean goals have come from - Omar Kalabane, Ismael Bangoura, Sadio Diallo and veteran Bobo Balde. Thanks to all who have e-mailed that info.
1815GMT GOALS!! Tunisia 5-0 Chad.Oussama Darragi scores a minute after the break and then Issam Jemaa completes his hat-trick seven minutes later.
1810GMT: Argggggh noooo! Just spotted a text from the BBC's Mourad Teyeb in Tunisia that I missed telling me it's actually Tunisia 3-0 Chad at half-time! Issam Jemaa with his second of the game.
1807GMT: It's 20 or so minutes to kick off in Cairo and the BBC's Matthew Kenyon says the Military Stadium is full and it's loud - no surprise there then! Lots of Egyptian flags and few Libyan rebel ones too in support of the revolution there are the moment.
1804GMT FINAL SCORE Liberia 1-0 Cape Verde: So despite losing that game Cape Verde remain top of Group A as Mali lost in Zimbabwe this afteroon. And despite winning Liberia remain bottom of the table!
1800GMT: A few e-mails asking about the Guinea v Madagascar game and I have to be honest I haven't heard anything concrete from Conakry - would rather give you accurate info than false info - so apologies for that!
1755GMT: We are nearly into injury time at the end of the game in Monrovia and it's still Liberia 1-0 Cape Verde.
1750GMT HALF-TIME Tunisia 2-0 Chad.
1747GMT: Tonderai has e-mailed to ask what is happening in the Liberia v Cape Verde game - well Lone Star still lead 1-0. He goes onto say: I am happy with the bravery of Ethiopa today, they didnt win but they tried and to Uganda, Senegal, CAR, Angola and Burundi I also say good hunting folks!
1745GMT RED CARD! Didier Mbayi of Chad is sent of for a violent tackle.
1740GMT: Reneilwe Letsholonyane will replace Pienaar in the South Africa starting line-up.
1736GMT GOAL! Tunisia 2-0 Chad. Aymen Abdennour adds a second for the Carthage Eagles just 10 minutes before half-time.
1735GMT: Tunisia 1-0 Chad. Issam Jemaa has opened the scoring for Tunisia in Sousse.
1729GMT: Matthew Kenyon has more team news - Egypt are without Mohamed Aboutreka, Wael Gomaa starts - up front will be Abdel Zaher with Mohamed Zidan and Shikabala just behind him. Usual captain Ahmed Hassan is on the bench and goalkeeper Essam El Hadary takes over the armband.
1720GMT: Was that quick enough? Just hearing from BBC's Matthew Kenyon in Cairo that Steven Pienaar will not play for South Africa this evening against Egypt. The Bafana Bafana captain was injured during training on Thursday but still flew to Cairo with the team.
1712GMT: Apologies the updates will stop for a few minutes while I run and get some food before I faint. Before I go I can tell you Liberia v Cape Verde is underway again.
1710GMT: And some happy Ethiopian fans despite not winning today Meba Selassie Mekonnen e-mails: Even though Ethiopia's chance of qualifying is slim, drawing 2-2 was not bad for the new coach, who only had 10 days to get to know the players, train and then face the Super Eagles.
1707GMT FINAL SCORE Benin 2-6 Ivory Coast. THAT MEANS THE IVORY COAST HAVE QUALIFIED FOR THE 2012 AFRICA CUP OF NATIONS FINALS!
1701GMT HALF-TIME Liberia 1-0 Cape Verde.
1700GMT: FINAL SCORE Angola 1-0 Kenya. That lifts Angola from bottom of the table into second place with six points - Uganda lead the way in Group J with 10 points.
1659GMT: FINAL SCORE CAR 2-1 Tanzania: That result means CAR are second in the group behind Morocco on goal difference - both teams have seven points. Tanzania are third now ahead of Algeria on goal difference.
1658GMT GOAL! Benin 2-6 Ivory Coast.
1655GMT: BBC Fast Track's Matthew Kenyon is in Cairo for the Egpt v South Africa game and he says Egyptian authorities are taking no chances with security. First the game was moved to the much smaller Military Stadium from the Cairo International stadium and he has spotted a lot of army in the crowd - but there is still a great atmosphere. The teams have arrived at the stadium with Bafana Bafana singing as they enter the stadium.
1650GMT GOAL! Benin 2-5 Ivory Coast: Surely that's Ivory Coast booking tickets to Equatorial Guinea and Gabon as Gervinho slots home his second and Ivory Coast's fifth.
1646GMT GOAL! CAR 2-1 Tanzania. The hosts score what should be a winner in the last few minutes of the game.
1645GMT GOAL! Benin 2-4 Ivory Coast: Not so sure about that comeback now - there's another penalty this time for Ivory Coast after a foul on Gerninho and Didier Drogba steps up to score.
1641GMT GOAL! Liberia 1-0 Cape Verde. Francis Doe heads Liberia, who had already missed several good chances, into the lead against Cape Verde.
1640GMT GOAL! CAR 1-1 Tanzania. Star striker Mbwana Samata, who has come on as a second-half substitute, equalises for Tanzania.
1636GMT: Tanzania are fighting back and Athuman Machupa is one of several Taifa Stars who has failed to convert good chances against the CAR.
1635GMT FINAL SCORE Comoros 1-1 Libya. And that's a first point for Comoros in these qualifiers, Libya will be disappointed not to get a win over the minnows despite the problems back home. Zambia stay top of Group C with nine points one ahead of Libya.
1633GMT: Still no goals in Monrovia between Liberia and Cape Verde.
1632GMT GOAL! Angola 1-0 Kenya. Fformer Manchester United striker Manucho (remember him!) scores for Angola after he was set up by Djalma Campos.
1630GMT GOAL! Benin 2-3 Ivory Coast: Who mentioned a comeback? Sessengon scores his second from the penalty spot after a foul by Ivory Coast's Yaya Toure.
1630GMT: Still no news of any goals from Luanda where Angola are playing host to Kenya.
1625GMT GOAL! Benin 1-3 Ivory Coast: Is this the start of the comeback? Just a few minutes into the second half and Stephane Sessegnon scores a great goal for the Squirrels.
1614GMT: Some contrasting feelings on the e-mails! A happy Anouar Amrani writes to say: I think yesterday was one of the best matches for Morocco in ten years. And it was all thanks to the sold out crowd who pumped up the national team. After the 1-0 defeat in Algeria everyone said that coach Eric Gerets has to leave. Now he must stay. That is the way it goes in Morocco. While a sad Super Eagles fan writes simply: This a bad day for us in Nigeria.
1610GMT: Back playing in Bangui where hosts CAR lead 1-0 over Tanzania.
1605GMT: And we are underway in Monrovia as Liberia host Cape Verde.
1600GMT HALF-TIME Benin 0-3 Ivory Coast.
1550GMT HALF-TIME Angola 0-0 Kenya.
1550GMT HALF-TIME CAR 1-0 TANZANIA: The hosts, who have been dominating, score on the stroke of half-time.
1543GMT GOAL! Benin 0-3 Ivory Coast: Lille striker Gervinho scores surely that's the Elephants in the finals. And the BBC's John James who is following the game for us says Ivory Coast are not playing amazingly well but somehow it's proving very easy to score.
1538GMT: In Bangui its approaching half-time and it's still goalless between Central African Republic and visiting Tanzania.
1535GMT FINAL SCORE Burundi 3-1 Rwanda. The hosts second was scored by Saido Ntibazonkiza in the 50th minute after Rwanda had equalized three minutes earlier through Bokota Labama. Burundi's third came with two minutes remaining from Papy Saty.
1532GMT GOAL Benin 0-2 Ivory Coast: Chelsea striker Didier Drogba scores a second for the Elephants - who will probably find out at half-time that Burundi beat Rwanda and means if Ivory Coast win they will qualify for the finals.
1530GMT: FINAL SCORE Swaziland 1-2 Sudan: Chris here in the UK tells me he has been paid for a winning bet on this game - and if I know bookies they won't be paying out without confirming the result.
1530GMT LATEST Burundi 3-1 Rwanda.
1520GMT GOAL! Benin 0-1 Ivory Coast.
1509GMT: The game in Benin is underway against the Ivory Coast.
1505GMT: I hear that Mali finished the game with 10 men after a straight red card for one of their players following a mass brawl that saw Zimbabwe keeper Tapiwa Kapini knocked to the ground. The win means Zimbabwe are still in the running in this group.
1451GMT: FINAL SCORE Botswana 0-0 Malawi. A point for Botswana has guaranteed them top spot from Group K. It's now between Malawi and Tunisia for the runners-up spot and a place at the 2012 finals - two teams qualify from this five-nation group. Tunisa play host to Chad later today. That result also means Togo, who aren't in action this weekend, are out of the running for the 2012 finals.
1450GMT: FINAL SCORE Zimbabwe 2-1 Mali.
1450GMT: FINAL SCORE Ethiopia 2-2 Nigeria.
1446GMT GOAL! Zimbabwe 2-1 Mali: In the final minute of normal time Knowledge Musona scores from the penalty spot - but he had two bites at the cherry to convert the spot kick.
1445GMT GOAL! Nigeria 2-2 Ethiopia: We are into the closing stages in Addis Ababa and Nigeria have grabbed an equaliser - not sure that's going to placate Nigerian fans though! And its defender Joseph Yobo with that goal.
1443GMT: It's still goalless in the game between Botswana and Malawi - doesn't sound like a very exciting game that one!
1440GMT: Big T from Lagos in Nigeria e-mails to say: I just want to comment on the Ethiopian-Nigeria game. Nigeria think a friendly against an under strength Argentina is the real deal but this is the real stuff now let's see them be Super Eagles.
1437GMT: And looks like I have another card! A text points out that this time I have the Burundi v Rwanda score the wrong way round. I am hoping that the referee is Graeme Poll and that I can get away with three yellow cards before having to leave the pitch.
1435GMT: BBC's Steve Vickers reports that Zimbabwe striker Knowledge Musona has missed a sitter heading wide when he was right in front of goal.
1430GMT: HALF-TIME Burundi 1-0 Rwanda: Getting news that Seremani Ndikumana has scored for the hosts after 34 minutes - and that's a goal that will be cheered by Ivory Coast fans too - because if it stays like this Ivory Coast can qualify for the finals with a win in Benin.
1425GMT: BBC's Steve Vickers says that Zimbabwe are still creating chances with Mali goalkeeper Diakate Soumaïla forced to makes saves from scorer Knowledge Musona and Khama Billiat - but it is still 1-1.
1425GMT: I think there a few concerned Super Eagles fans out there - one of them is Kingsley Momor in Benin city, Nigeria who texts to say: Anything other than a win will be a disaster. Come on Super Eagles you can soar.
1415GMT: Just had a text from Tonderai Bango. asking if we have the latest tables - we certainly do! Click here for the 2012 Africa Cup of Nations tables.
1412GMT: We are also back underway in Gabarone between Botswana and Malawi.
1412GMT GOAL! Zimbabwe 1-1 Mali: The visitors have equalised through El Hadji Mohamane Traore, who scores from inside the area after the Zimbabwe defence fails to clear.
1410GMT: I am hearing through the grapevine that Comoros and Libya kicked off at 1400GMT and not at 1200GMT as planned.
1406GMT GOAL! Ethiopia 2-1 Nigeria: Two people have e-mailed me - Meba Selassie and Yosief Abbay - to say that Saladin Seid has scored a second for Ethiopia - we have the makings of a big shock here.
1401GMT: The second-half is underway in Harare with Zimbabwe holding that 1-0 lead over Mali.
1355GMT: HALF-TIME: Ethiopia 1-1 Nigeria. Oh dear this would not go down well in Nigeria!
1350GMT: HALF-TIME Zimbabwe 1-0 Mali: It seems to have taken a while for the text to reach me but moments before the half-time whistle Knowledge Musona scores from an acute angle inside the box - and that's livened the fans up in Harare says the BBC's Steve Vickers.
1350GMT: Oh this must be tough for Kenyan to write: Kenya has no option but to win. A draw or loss kind of guarantees Uganda qualification. good luck Harambee Stars! from Joel Oyuga.
1348GMT: HALF-TIME Botswana 0-0 Malawi.
1347GMT: Is there anyone in the Comoros reading this and who can tell us what the score is against Libya?
1345GMT GOAL! Ethiopia 1-1 Nigeria: Saladin Seid has equalised for the hosts with four minutes left until half-time.
1344GMT: Opps been given a yellow card by Shim and Charles Mann via e-mail for getting the score above the wrong way round - it is indeed Ethiopia 0-1 Nigeria and not the other way round. Apologies Shim!
1341GMT: Let's not forget there is a big game this evening in Cairo and as Ed in London quite rightly points out in his e-mail: A win for Egypt today and Niger's loss yesterday will give the Pharaohs a lifeline to go for a record fourth Cup of Nations win in a row.
1335GMT: The BBC's Steve Vickers says still no goals and the crowd is a lot quieter in Harare - Zimbabwe's speed is being controlled by the strength of Mali.
1333GMT: And that goal won't have gone down well e-mailer John who says: Ethiopia one of the founders of Caf will be back to the Nation cup after 26 years by beating Nigeria today. Come guys do it.
1331 GOAL! Ethiopia 0-1 Nigeria: So it looks like the match in Addis kicked off at 1300GMT and after 26 minutes Ikechukwu Uche gives the Super Eagles the lead.
1330GMT: Our man at the Botswana v Malawi game Mtokozisi Dube says that it's still goalless in what has been an evenly-balanced game so far.
1325GMT: Not much news out of Ethiopia but what my BBC colleague Oluwashina Okeleji tells me is that Nigeria coach Samson Siasia has made two changes from the Super Eagles team which started against Argentina. Speedy winger Ahmed Musa comes in for Kalu Uche, who was allowed to return to Spain. Peter Utaka replaces Victor Anichebe. Emmanuel Emenike will play no part after coming down with a fever.
1320GMT: The game in Harare started on time at 1400 and after 20 minutes the BBC's Steve Vickers tells us that hosts Zimbabwe have had the best chances so far but that Mali's giant striker Cheikh Diabate is looking dangerous.
1315GMT: So we are learning that the CAR v Tanzania game will kick-off at 1500GMT - the head of the Taifa Stars delegation, Samwel Nyala, has told a local radio that the pitch in Bangui is bumpy but the Tanzanian team is in top mood.
1311GMT: Robert Nouzaret the coach of the victorious DR Congo side tells Yasine: "The players played at a good level even though the pitch was a disadvantage - now we are looking to qualify.
1309GMT: BBC's Yasine Mohabuth in Mauritius has been hearing from the coaches. Akbar Patel the man in charge of the home side says: "We have to work more. We had many goal scoring chances but failed to score. There are three big teams in this group and they automatically they put us in defence. We have to work harder so teams respect us.
1302GMT: The game in Gabarone is underway as Botswana, the only team to have qualified for the 2012 finals so far, host second-placed Malawi.
1252GMT FINAL SCORE: Mauritius 1-2 DR Congo: The result means that Mauritius cannot make it to the 2012 Nations Cup and leaves them without a single point still - but for DR Congo they move into second place in Group E three points behind Senegal with two games left.
1251GMT: Igiewe Eugene e-mails to say: The Ethiopians are in for trouble against the Nigerians. Nigeria will beat them by 3-0.
1245GMT: The BBC's Steve Vickers reports from Harare that there is an amazing atmosphere at Rufaro stadium where Zimbabwe take on Mali in a Group A match. Mahamadou Diarra starts on the bench for the visitors.
1213GMT: Even though today's game between Ethiopia and Nigeria is very decisive for both teams, I hope we win in front of our very best supporters. (Ashenafi, Norway)
1200GMT: Second half underway with Mauritius fans hoping for something to cheer them on a bright, sunny day.
1148GMT: HALF-TIME Mauritius 1-2 DR Congo
1146 GMT: GOAL! Mauritius 1-2 DR Congo: The Congolese put their noses in front a minute into first half stoppage time. Kabangu Mulota on target from 30 yards out.
1144 GMT: Diba Ilunga again threatens the Mauritius goal but his shot goes just wide. The Congolese are enjoying the lion's share of possession.
1143GMT: I congratulate my darling Leone Stars for the powerful performance they put on against Niger. (Frank Lynho, Freetown)
1140GMT: What are your thoughts on today's action? Get in touch by email or text. (See top of the page for details of how you can have your say).
1137GMT: After holding the tag 'nearly men' of Africa for a long time, Uganda's 2-0 victory over Guinea Bissau on Saturday is a pointer that we may just repeat the 1978 feat. Go Uganda Cranes! (Lambert Rusoke, Kampala)
1134GMT: DR Congo captain Zola Matumona puts the ball in the back of the net but his effort is ruled offside by the referee.
1130GMT: Nigeria have just finished lunch at their hotel in Addis Ababa ahead of Group B clash against Ethiopia.
1120GMT: GOAL! Mauritius 1-1 DR Congo: DR Congo equalise through Saudi Arabia-based striker Diba Ilunga. Fantastic strike. Game on!
1109GMT: GOAL! Mauritius 1-0 DR Congo: Penalty for Mauritius after foul on Fabrice Pitchia - Jonathan Bru puts the home side in front.