Lord Reid to stand down as Celtic chairman
Last updated on .From the section Football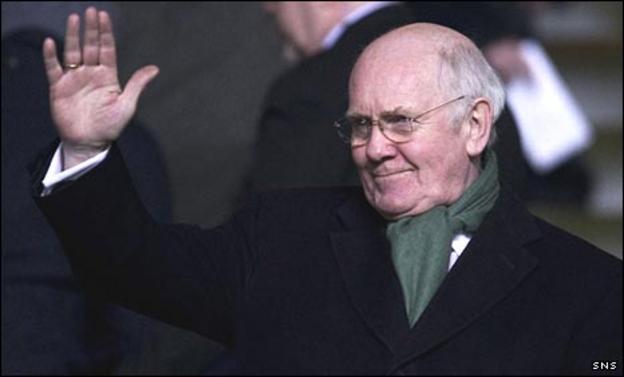 Celtic have confirmed that Lord Reid will step down as chairman and will be succeeded by whisky industry businessman Ian Bankier.
Lord Reid will end his four-year reign at the Scottish Premier League club's annual meeting in October.
The 64-year-old former Labour Minister had a particularly stormy final year at Celtic that included death threats suffered by manager Neil Lennon.
And Lord Reid said that it was time to bring fresh talent on to the board.
Celtic had rejected reports in November that Bankier was to take over from Lord Reid, but the Glasgow club have now confirmed the change.
The present chairman told the club website he was indebted to majority shareholder Dermot Desmond and chief executive Peter Lawwell.
City rivals Rangers have won the Scottish title three years in a row, but Lord Reid believes that he leaves Celtic stronger than they were when he arrived despite a period of financial problems throughout football and rising debts.
"I will always be grateful for the support, encouragement and friendship I have received from Dermot Desmond and my colleagues on the board, the management and staff and, above all, the greatest supporters any club chairman could wish," he said. "That is something I will forever value.
"We have come through a challenging period, but I believe we have come through stronger than ever.
"We now have in place a new, young talented managerial team led by Neil Lennon and capable of great things.
"Equally, we have recruited and shaped a new, young and talented squad whose promise for the future we have only begun to glimpse.
"Under Peter Lawwell's stewardship, we have weathered the storm of financial recession that has so badly afflicted other clubs."
In November, Lord Reid successfully called for the resignation of Dougie McDonald amid claims that the referee had lied to Lennon about his reasons for reversing a decision to give a penalty to Celtic against Dundee United.
Lord Reid also claimed that his club had been historically discriminated against, leading to a war of words with Scottish Football Association chairman George Peat, who is also due to stand down from his post, and promises to reform the national governing body.
"Hopefully, we have provided impetus to the reform of our wider football institutions," said Lord Reid.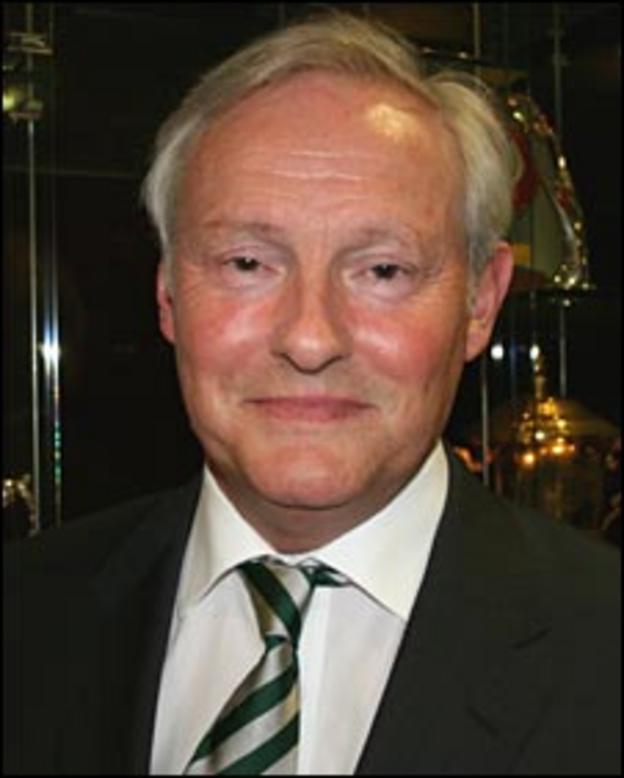 "Above all, throughout all of these challenges we stood together, more united than ever."
Dr John Reid - who held nine cabinet posts, including Defence Secretary - stood down as a MP for Airdrie and Shotts last year, becoming a life peer and taking the title Baron Reid of Cardowan.
"Over the past few years, we have followed a policy of continually refreshing the board with new, talented members," he said, explaining his planned departure from Celtic.
"I believe this is now the right time to do likewise with the chairmanship, to lead us through the next stage of our development from the next agm and ensuring an orderly and smooth transition.
"I have great pleasure in welcoming Ian Bankier, who joins the board as our new director and chairman designate.
"Chairman of Celtic is a demanding role, but Ian is someone of considerable experience and achievement.
"He will be a formidable addition to the board and will greatly strengthen our development over the coming years."
The 59-year-old Bankier is executive chairman of Glenkeir Whiskies Limited, which operates The Whisky Shop chain that he substantially owns.
He was previously managing director of Burn Stewart Distillers plc and chief executive of CL World Brands Limited, before which he was a solicitor and a partner at McGrigors, specialising in corporate law.
Glasgow-born Bankier said: "As a long-standing supporter of the club, I feel very privileged to be invited not only to join the board of Celtic but later to become its chairman.
"I am looking forward to it tremendously and hope that my own contributions to the future success and well-being of this extraordinary club will be as positive and beneficial as those of my predecessors."
Lennon, who faced sectarian threats to his safety during a controversial end to the football season, joined Lawwell, who described Lord Reid as "an extremely committed and enthusiastic chairman", in praising the chairman.
"He has provided me with great support and valuable guidance through some very difficult times," said the Northern Irishman.
"He has been a passionate advocate for the club and the team."