Angry Taarabt storms out of Morocco camp
By Piers Edwards
BBC Sport
Last updated on .From the section Football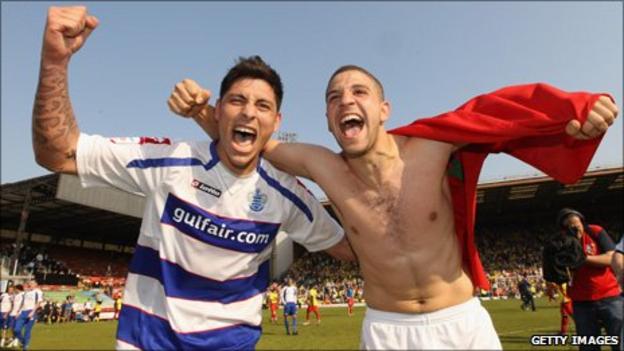 Queens Park Rangers' Adel Taarabt has stormed out of the Moroccan camp after learning he would not start Saturday's African qualifier against Algeria.
The temperamental midfielder has vowed to quit international football for good after being told he would start the Marrakech clash on the bench.
"I am currently in Marseille," he told Moroccan station Radio Mars on Friday.
"I never want to play for the national team again, with or without (Morocco coach) Eric Gerets."
Moroccan sports correspondent Hakim Gazaoui has told the BBC that fans in Morocco have reacted with anger to Taarabt's move.
After the playmaker was told he would be benched for the Group D clash, Taarabt, 22, reacted by flying to France.
"I decided to quit the national team after learning that I was not going to start against Algeria," Taarabt explained.
"I left without giving any explanations to the coach. I did not want to create any problems within the squad."
"The national team is now finished for me. I would prefer to represent my country through my club."
Taarabt was a key factor in QPR's recent promotion to the Premier League, being named the Championship player of the year.
He has had problems with the Moroccan team before, reacting badly when forced to start last October's 2012 Nations Cup qualifier against Tanzania on the bench.
Having played for France at youth level, Taarabt made his debut for the land of his birth in 2009.
Morocco were already without freescoring Ajax Amsterdam striker Mounir al-Hamdoui for the spicy Algeria clash, with the Atlas Lions keen to avenge their 1-0 defeat in Annaba in March.
Both North African sides lie in the bottom half of Group D, trailing Central African Republic and Tanzania, although all four teams boast four points at present.