SPL change unlikely says Dundee Utd's Stephen Thompson
By Jim Spence and Chris McLaughlin
BBc Scotland
Last updated on .From the section Football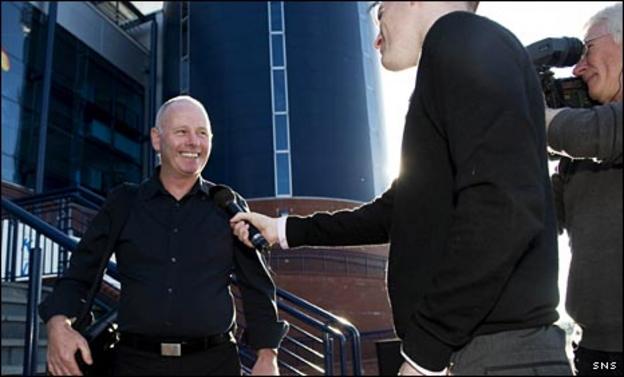 Dundee United chairman Stephen Thompson believes the Scottish Premier League will stick with 12 teams because nobody can agree on the best alternative.
Aberdeen's Stewart Milne, who supports a 10-team top flight, believes a 14-team alternative will not win support.
And Thompson, who backs a bigger league, said: "If the 14's dead and the 10's dead then let's just forget about reconstruction and move on.
"It's time to move on because too many are strong in each camp."
The SPL requires an 11-1 majority to change the size of the league and the issue was once again discussed when the top-flight's strategic review group met at Hampden on Friday morning.
Representatives of Rangers, Celtic, Aberdeen, Motherwell, Hibernian and St Mirren had drafted a wide-ranging proposal favouring a top tier of 10.
But eight of the 12 SPL clubs met at Tynecastle on Tuesday to discuss the issue, prompting Dunfermline Athletic chairman John Yorkston to declare that the idea of a top 10 was "dead" and that a 14-team set-up should be reconsidered.
"I think there's more than one club against it, so that's all you need," said Thompson when asked about the chances of a 10-team top flight winning a vote.
"I think there's about four, maybe five clubs who would definitely vote against the 10, so it's not going anywhere.
"If there's three or four voting against the 14, that's not going anywhere.
"One last time, I would like to see everybody round the table and, if we can't come to agreement at that point, we have to move on with what we've got."
Thompson said that dropping the idea of reconstruction might be the best way of avoiding damaging the brand - something Milne had warned about earlier.
"A 14-team league was evaluated as part of the overall exercise and it was demonstrated clearly to not be viable," said the Aberdeen chairman.
"It doesn't do anything on the football front, it doesn't do anything on the financial front.
"I think most people know that, but it's being used as something to hide behind."
Milne said that no new detailed proposal for a 14-team league had been submitted for all the clubs to study.
"There is still just one plan on the table," he said.
"Some people believe the plan on the table is the right one. Others, whether they are trying to avoid making a decision, are going behind a 14-team league.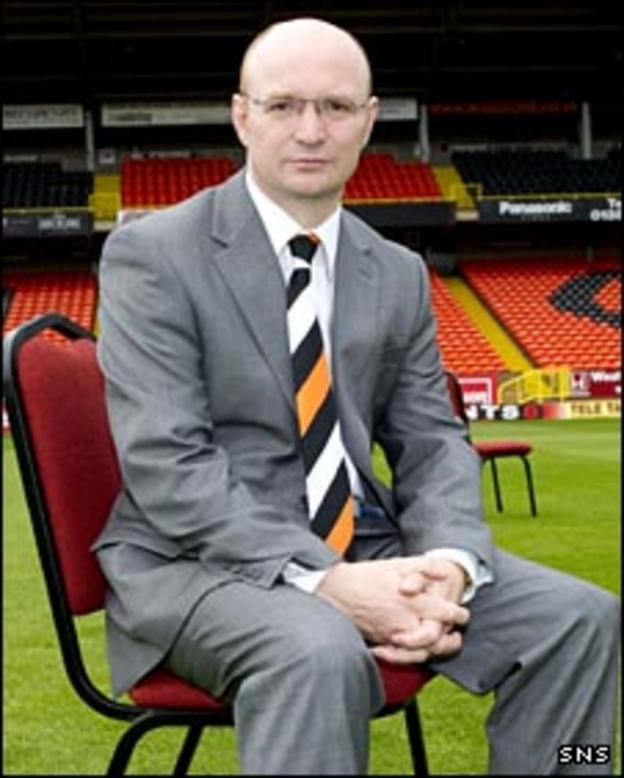 "They have been asked to demonstrate why they believe it is viable and nothing has come forward yet."
Asked if he thought the ongoing differences of opinion was damaging for the Scottish game by BBC Scotland, Milne replied: "I think it is, without any question. It's there, it's evident."
And quizzed on there being an end in sight, he responded: "I wish I could say there was, but I think there is a fair bit of work to be done.
"There is no deadline, but I think a time will come when we have to impose one on ourselves."
SPL chief executive Neil Doncaster is convinced a top 10 is the way forward and insists the majority of clubs share his view.
"Something of this depth is going to take a lot of discussion," he said.
"We have an enormous hurdle to get over, which is 11 votes, and what we are dealing with is clubs who have their own domestic issues to concern themselves with.
"There remains enthusiasm for change and people find the bulk of what is in the plan very exciting.
"Unfortunately, it all comes down to one stumbling block, which is the size of the top league.
"We clearly need to engage further with the clubs that favour another plan. It's important that we all work together."
The srategic review group and a representative from St Johnstone also spoke with Scottish Football Association chief executive Stewart Regan and president-in-waiting Campbell Ogilvy at Friday's meeting.
"We have a great opportunity for change, a great opportunity to develop the game," Regan had said on his way into Hampden.
"We are keen to understand the issues the Scottish Premier League are facing and to see what we can do to assist.
"Whenever you go through reconstruction, there is always going to be differences of opinion.
"I said some time ago that I thought a 10-team league would be helpful from a performance point of view.
"Best versus best at the highest level can be a good thing.
"But, equally, I can see from a fans' perspective the desire to have greater numbers."