Fifa's Sepp Blatter will not seek revenge against FA
Last updated on .From the section Football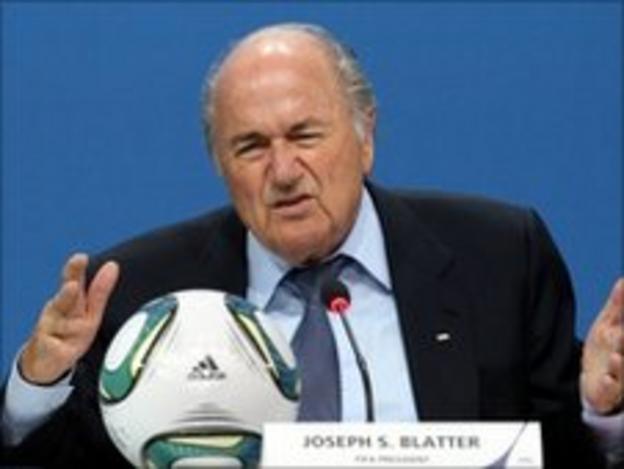 Sepp Blatter insisted he would not make England pay for attempting to stop him from being re-elected unopposed as Fifa president.
The Football Association wanted Wednesday's election postponed but was heavily defeated at the Fifa congress in Zurich.
Blatter expressed surprise at the FA but said he would not hold any grudges.
"There's no bad feeling with the associations that didn't vote for me," he said.
"I'm the president of all the associations and will work with all of them - and with 186 votes I'm proud. Don't worry about the English.
"The number one national association in Fifa - the FA founded the game in 1863 - have the right to be called the FA, Football Association. They should be an example, so that was a surprise.
"I had heard about it, and Uefa made a special meeting trying to convince them. I thought this problem would be solved so was surprised when they tried to change the agenda of the Congress and not make elections."
Meanwhile, new Fifa vice-president Jim Boyce told BBC Sport that the FA now need to bring in new faces to "build bridges" following the fall-out.
Boyce, the former president of the Irish Football Association, claimed there is a perception within certain Fifa circles that the FA is arrogant and stated that he is happy to help improve relations between the English association and the game's governing body.
He said: "England in my opinion needs to build bridges both within Uefa and Fifa. I can assure you that I will do all in my power - if asked - to help the English FA."
Meanwhile, it has emerged that at least one of the countries who voted in favour of the FA's proposal to postpone the election did so by mistake.
Vietnam voted 'yes' to postpone the election believing they were actually voting to proceed with the election and Blatter as the only candidate.