John Ruddy eased James Vaughan's Norwich City move
Last updated on .From the section Football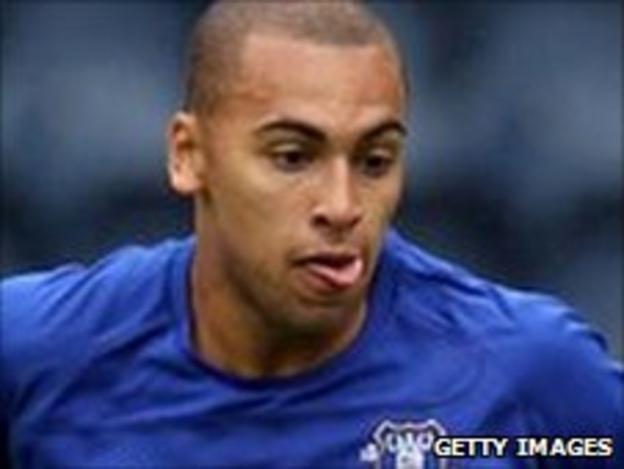 New Norwich City acquisition James Vaughan says the club have goalkeeper John Ruddy to thank for his arrival.
The pair spent five years as Everton team-mates before Ruddy joined the Canaries to become their first choice shot-stopper last summer.
Striker Vaughan completed his move to Carrow Road on Friday to link up with his former Goodison Park colleague.
"I know John really well, I was at Everton quite a while with him," the 22-year-old told BBC Radio Norfolk.
"We became good friends and he's a good lad.
"He's had nothing but good words to say, he's mentioned that the team here is a tight group and I'm looking forward to working alongside them."
Birmingham-born Vaughan has grown up in the Everton youth academy, only leaving to take on loan spells at Derby, Leicester and Crystal Palace.
And he expressed his gratitude to the Toffees for giving him his football education.
"Leaving Everton was the hardest part of the deal really, Everton's a great club," he admitted.
"I owe everything I've got to what they did for me when I was growing up and since I've been a professional footballer."
Vaughan has made 47 Premier League appearances for Everton, 39 as a substitute, and has scored seven times.
His strike in a 4-0 win over against Crystal Palace in April 2005, aged 16, made him the top flight's youngest ever goal scorer.
"He's done it at Premier League level, albeit for a short space of time," added Norwich boss Paul Lambert.
"He's scored at that level, he knows what the level is all about and hopefully he'll fit into the group the way I expect.
"You look at a club the size of Everton and see what he's done there, when you make your debut at the age of 16 it shows you how highly they thought of him.
"But he needs somewhere he thinks he can be for a few years.
"To leave that part of your life behind after being there so long is a big move, he's only 22 but you'd think he'd been around for years."