Swansea City resigned to losing Fabio Borini to Parma
Last updated on .From the section Football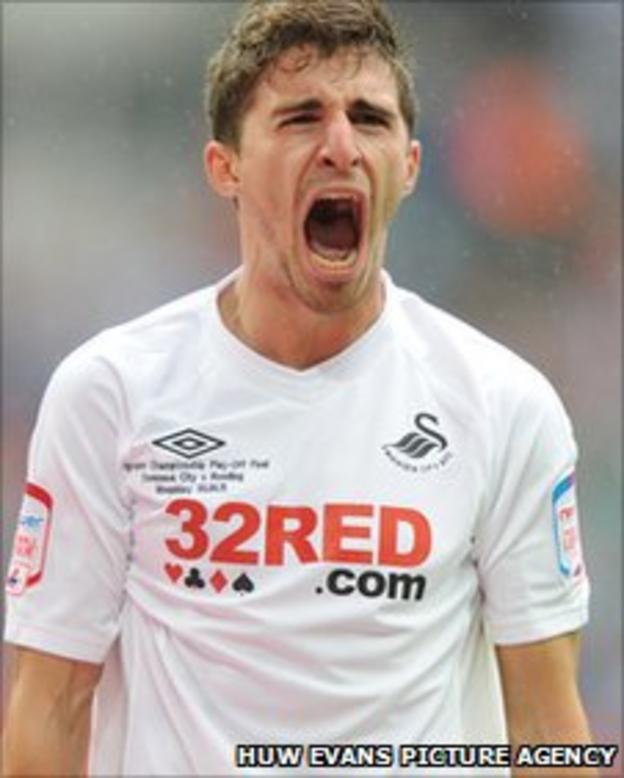 Swansea's hopes of signing Fabio Borini have been dashed with the striker set to sign a five-year contract with Italian Serie A side Parma.
But Borini had already signed a pre-contract agreement with Parma before joining newly-promoted Swansea.
"We'll keep our eye on him and maybe he can play for Swansea again in the future," said manager Brendan Rodgers.
On Tuesday, Borini missed Swansea's open-top bus parade to celebrate their Premier League promotion because of his involvement with Italy's Under-21 side.
"Fabio goes to Parma for five years. They have given Fabio a very good contract," Borini's agent Marco de Marchi told the Daily Star.
"He's a very good player. He'd already signed before the final so it wasn't possible to have a rethink and stay with Swansea."
Swansea assistant coach Alan Curtis said losing a player of Borini's quality was a "huge blow."
"Fabio's come in and he's been like a breath of fresh air," said the former Wales striker.
"He's a fantastic young player and there's no wonder there was a lot of interest, not only from the Premiership, but also abroad as well.
"I would like to think maybe in a couple of years, provided we stay in the Premiership [and] do well, possibly we could welcome Fabio back."
Borini had featured for Swansea in their 4-2 victory over Reading in the Championship play-off final at Wembley on Monday., winning the second penalty which allowed Scott Sinclair to complete his hat-trick.
The striker joined Chelsea from Bologna in 2007 but played just four games during his time in west London.
With his contract at Stamford Bridge to end in June, Rodgers had hoped to persuade Borini to make a permanent move to the south Wales club.
The manager said he was unaware the Italian had signed a pre-contract agreement with Parma until the final few days before the play-off final.
"I sensed he was very quiet in training one day so I pulled him to one side and had a chat with him," said Rodgers.
"It had played on his mind because he's been accepted so well.
"Long before we came in for him he'd already signed a pre-contract agreement with Parma, and as the love of Swansea and his life here grew, that became more difficult.
"But he's an honest kid, he's written an lovely letter which will come out to the people, the supporters and the staff."