Gary Pallister leads tributes to Paul Scholes
Last updated on .From the section Football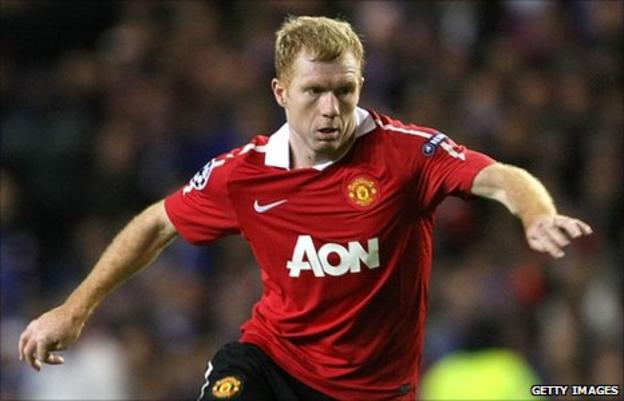 Former Manchester United defender Gary Pallister thinks Paul Scholes deserves to be compared with the club's greats, following news of his retirement.
Scholes, 36, made his United debut in 1994, going on to win 10 Premier League titles in 676 appearances.
"His record speaks for itself," Pallister told the BBC. "He's up there with the greats. He's done everything that needs to be done in the game.
"He's got a great footballing brain and a great appetite to win.
"When you talk about the greats of Manchester United, he's up there with Georgie Best, Bryan Robson, Ryan Giggs and Bobby Charlton just purely for the amount of medals that he's won," he said. "He's going to be greatly missed by Manchester United."
The 36-year-old Scholes was part of the famous 'Class of 92' that came through the club's youth system.
"We heard about these young kids coming through - the likes of Scholesy, Nicky Butt, David Beckham and the two Nevilles [Gary and Phil]," said Pallister.
"You would talk to coaches at the training ground and they were so excited about the players that were coming through.
"Obviously with Scholesy, there were concerns about his height and whether he'd be able to deal with the physicality of the Premiership, but that was soon put to rest.
"When you watched him train, you could see why he was so fantastic. He could certainly look after himself on the football pitch."
United forward Wayne Rooney joined the tributes to his former team-mate, describing him as the best he has played with.
"He'll be missed greatly," Rooney told Talksport. "I just heard the news this morning. We knew he'd make a decision but didn't think it would be this quick. We're all sad to see him stop playing. "He's been great for United and England and he'll be missed by all of us.
"He hasn't started that many games of late and I'm sure that's come into his head and he's made his decision.
"But he'll be a big miss for us. He's the best I've played with and against. He's only small but it's so difficult to get the ball off him. Every United fan will miss him."
And on Twitter, Scholes's former team-mates Rio Ferdinand and Gary Neville gave their reaction to the news of his departure.
"Paul Scholes retires from football ... the BEST player of his generation #fact loved every minute of playing football with him," said Ferdinand on his Twitter account.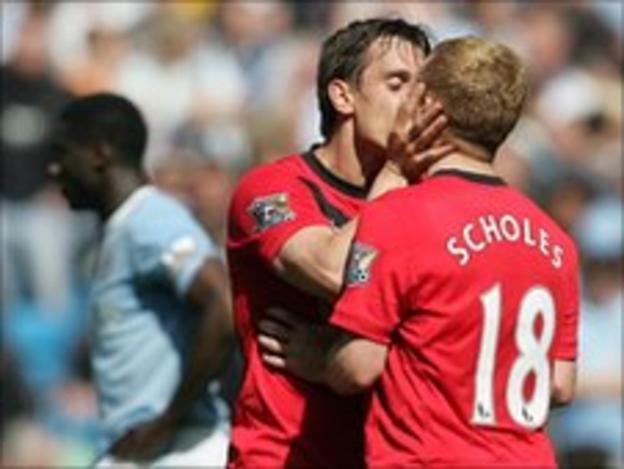 "Paul Scholes aka Sat Nav went from a scoring midfielder to a dictator of the game (changed his game while still at top of the game).
"Going to miss training with him + his cold cutting + dry comments on the bike while warming up next to me on any1 who deserves it.
"Youngsters got to learn from Sat nav. Just watch him b4 he receives the ball, heads on swivel getting a picture of all around b4 balls arrived."
Gary Neville, who retired in February after making 602 appearances for the Red Devils since his debut in 1992, added: "Paul Scholes - The Best! Great Player, Person, Friend."
Former Manchester United forward Dwight Yorke told Sky Sports News: "When you look back you talk about legends of the game, he's certainly up there. Twenty trophies since 1994 - he just seems to get better and better.
"I've had the honour of playing alongside him. The four years I've played alongside him, he is the best player, one of the first names on the manager's team sheet.
"He is just a complete legend. There are not enough players like Paul Scholes around any more for my liking. 'Legend' is over-used but this guy is right up there with the very best."