Fifa boss Blatter seeks African backing over election
Last updated on .From the section Football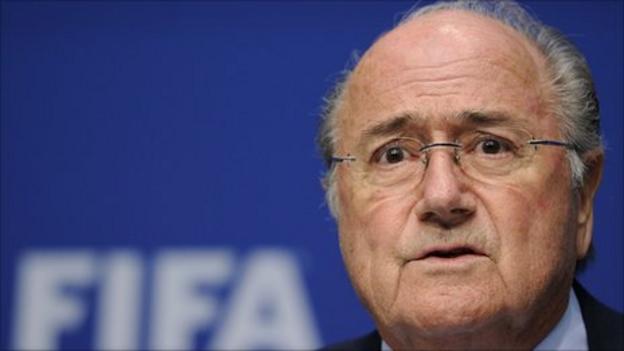 Fifa president Sepp Blatter has been seeking the backing of African nations to ensure Wednesday's Fifa presidential election goes ahead as planned.
Blatter is the only candidate running after Mohamed Bin Hammam's withdrawal.
The FA needs the backing of 75% of the world's 208 football associations for the motion to be approved.
Blatter addressed African delegates, who will be at Wednesday's congress, at their hotel in Zurich on Tuesday morning.
It appeared to be a pre-emptive strike at those seeking a postponement as he sought the African support to ensure the polls would go ahead as planned even before the English FA announced their intentions.
However, one country that will not be backing Blatter is Liberia, whose FA president Musa Bility publicly declared he would have voted for Bin Hammam..
Bility told BBC Sport he would be backing the English proposal so time could be made for an alternative candidate to step forward for the credibility of football.
He also added that he though that many other African countries would support the English FA.
But it seems that the English FA has not had the chance to talk to many delegates about their proposal.
"We have not had a chance to sit down and discuss the matter with the English or even to read their statement," said Kirsten Nematandani, president of the South African Football Association.
"Maybe they will still seek to engage with us before the Congress starts."
Earlier this month, the Confederation of African Football said it would be backing Blatter for re-election.
However, the individual football associations across the continent are free to vote as they please.