Huddersfield boss Lee Clark bemoans three-goal defeat
Last updated on .From the section Football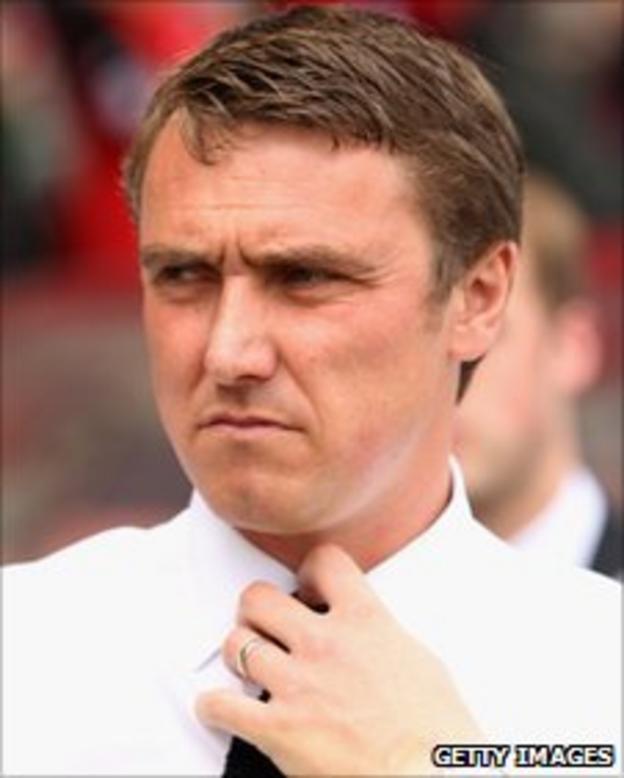 Huddersfield boss Lee Clark says the scoreline in the 3-0 League One play-off final defeat by Peterborough was harsh on his team.
The game was goalless until 12 minutes from time.
Clark said: "I think they didn't deserve 3-0. When people look at that, they'll think it was a one-sided game but it just wasn't.
"I was expecting us to get a goal but they withstood what we threw at them and then hit us with a treble."
But Clark said his players could be proud of their efforts this season.
They had gone 27 league games unbeaten before Sunday's defeat, finishing third in the table and chasing for automatic promotion until the penultimate day.
"I feel for the players. We knew it was a one-off game and some team had to win it," he said. "But the players don't have to feel ashamed for anything that's happened this season. They broke numerous records and ran through proverbial brick walls for me this season.
"We've had an unbelievable season but we haven't achieved our goal. The biggest thing that's eating away is, not taking anything away from Peterborough and their result, that it's gone 3-0 and it looks so against my team and it wasn't.
"We were in the ascendancy, we had the momentum and we were flying at that time. But this game was about winning, not about how we played.
"It was just a crazy seven minutes. In the second half for half an hour, I thought we were the dominant team. But we knew they had a set-piece expert who has fantastic delivery. And on two of the goals, it was proved right."
Clark suffered play-off heartbreak as a player in 1998 when Sunderland lost to Charlton on penalties in a 4-4 draw in what is regarded as possibly the greatest play-off game ever.
"This hurts just as much and that was horrendous," he said.
"I'm hurting now just for myself but for my owner [Dean Hoyle]. He was the first in the dressing room to see us. He's a fantastic man, he's a Huddersfield fan and I'm hurting for the fantastic supporters we had today."
He stood by his decision to play Benik Afobe as his only out-and-out striker, a tactic he regularly used away from home in the league: "It's not about systems. We were the dominant team.
"After the second the lads lost their shape, trying to throw caution to the wind and it wasn't to be."
But Clark expects to return strong from the experience, as he did during the defeat by Charlton 13 years ago.
"I'm physically and mentally drained at the moment and I need to recharge my batteries. But I know what it takes to bounce back, I've done it before," he said.