Manager Ferguson wants new blood at Peterborough United
Last updated on .From the section Football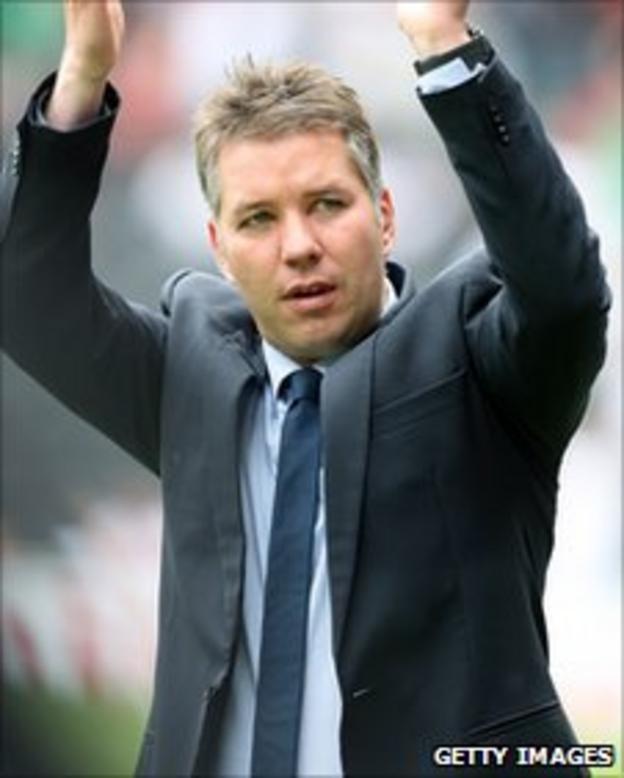 Peterborough United manager Darren Ferguson says he will be looking to bring in new players after their promotion to the Championship.
Ferguson said: "Last time it was difficult, we were naive. The quality was a lot better than we thought.
"I was loyal to my players after back-to-back promotions and that's something I'd have to look at this time."
He added: "We need other players. We know the areas we need to strengthen."
And he accepts that he may have to tweak their style of play, having conceded 75 goals in their 46 league games.
Ferguson said: "We play a certain way which I think is entertaining. It's something we may have to look at when we step up to the Championship. I want to play the right way. You look at examples of what you can copy and there was a great one last night, in Barcelona.
"We've got to try to establish ourselves. The first year is the most important. If we can do that, you get stronger and stronger because you get experience. You've seen other examples, Doncaster are not a much bigger club than ourselves."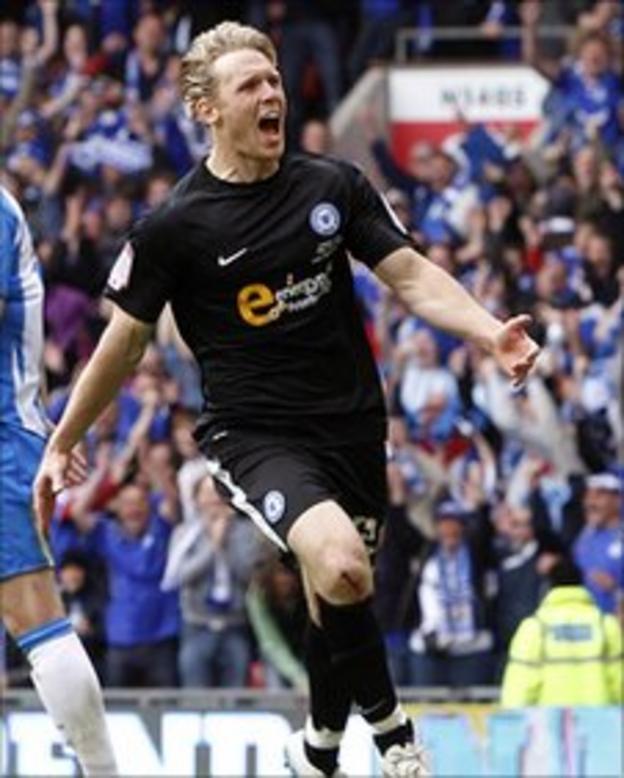 But Ferguson expects key striker Craig Mackail-Smith to leave after he scored his 99th goal for the club and 34th of the season to make it 2-0.
The Scotland international, 27, who joined Posh from then non-league Dagenham & Redbridge in 2007 has been linked to QPR and Norwich, who will both be in the Premier League next season.
Ferguson said: "I think the odds are stacked that he will leave. Obviously we'd have to get the right money for him. Everyone would wish him all the best. He's a great lad and he's given it everything.
"His energies won't change regardless of what level he's playing at. The centre-halves are obviously far, far better but he'd still be a pain to play against. He's improved. He deserves a chance to play in the Premier League and if he does leave I hope he gets it."
And Ferguson paid tribute to chairman Darragh MacAnthony for bringing him back to the club following his sacking by Preston in December.
"I think it says something about the chairman. He could easily have spent all that money and thought I've got to the Championship, maybe that's enough for me," he said. "He's had a right go. He's given people contracts, he's spent money and backed every manager he's ever had.
"He's had the bottle to get me back into the club. A lot of people doubted him because of the way it ended but he knows we've got a good relationship, he knows how I work and I wouldn't have come back if I didn't think promotion was possible."
And Ferguson insists he gets no pleasure in seeing his side swap divisions with relegated Preston: "Not at all, it doesn't come into it. I'm not a bitter man. I'll take my responsibility in that the club were bottom of the league when I left.
"It's never one man's fault, it's always a group effort. I didn't try any less at Preston, I always give 100%. For whatever reason, I think even if they had Wayne Rooney in the team, it was not meant to be. These things happen. We got promotion at Peterborough and that was my only focus.
"I've definitely learnt more from my time at Preston than in my other years of being a manager. I supposed I could have gone into my shell and not come back in for a while but I'm determined to succeed as a manager.
"It's going to be a long time hopefully and I'll have ups and downs. I'm lucky to have won three promotions, some managers never have any."
Ferguson was happy to restore some glory for the weekend to his family, after his father Alex's Manchester United lost to Barcelona in the Champions League final.
He said: "It was a big day for me after my dad losing, I wanted to get this win to put a smile back on his face and it's certainly done that. At least one of us has got a result.
"He's a jinx. He came to the first leg and we lost. He's not seen me win in a while. He stayed away from the second leg and we won. So I decided 'stay away'."
But he admitted his side were fortunate to come away victors, let alone with a 3-0 scoreline.
"The thing that won us the game was that we didn't concede. They had a real go at us. I thought in the first half we could have been ahead. What we worked on worked, we overloaded areas of the pitch," he said.
"We knew their centre-halves would play deep because of Craig and he had a couple of real good opportunities. But they've had a right go for 20 minutes and we didn't concede. That was the key."