Joey Barton wants to remain at Newcastle
Last updated on .From the section Football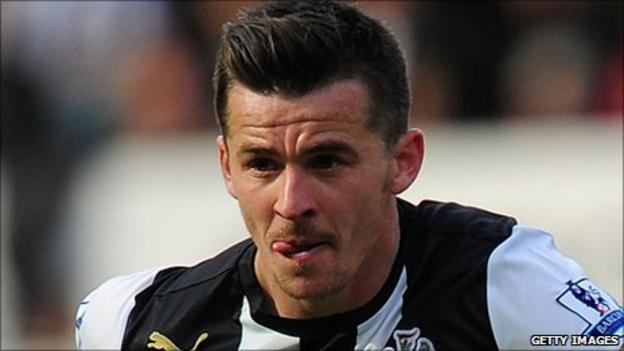 Joey Barton has claimed that although he wants to stay at Newcastle the club have failed to offer him a new deal.
The 28-year-old midfielder has one year left on his contract at St James' Park.
He wrote on Twitter: "Finished playing golf, 72 not bad. Came in to questions about joining Everton??? I don't want to leave Newcastle but thanks anyway.
"I can't sign a contract if am not offered one? Basically they want a younger, better, cheaper player."
Barton, however, added that he would remain committed to Newcastle for as long as the club want him.
Magpies boss Alan Pardew has been quoted as wanting to retain Barton, who joined Newcastle from Manchester City in July 2007 for £5.8m and has scored eight goals in 82 appearances at Newcastle.
But contract negotiations broke down between Barton and the club this month with Barton's agent Willie McKay telling BBC Newcastle that, although the player was prepared to take a drop in wages, Newcastle did not offer him a new deal.
Barton, referring to his belief that the club wants better but cheaper players, appeared to mock the Newcastle's transfer policy before stopping himself.
"Can't blame Mike [owner Mike Ashley] and Derek [managing director Derek Llambias] can you?" he tweeted.
"Slight problem is, they don't want to spend any money or pay any wages. It's genius really ha ha.
"I am an employee so have to be careful here. Everyone knows I'd love to stay, I get on with Pardew fine and our dressing room is first class.
"If I'm not offered a new contract, my hands are tied. I will continue to do everything in my power to bring a trophy to St James' next season."