Manager Paul Buckle to decide on Torquay United future
Last updated on .From the section Football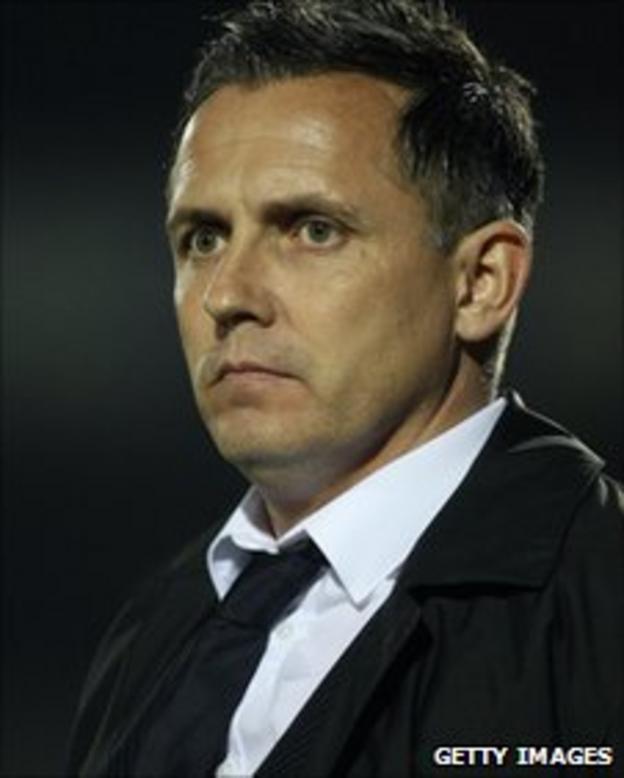 Torquay manager Paul Buckle will decide on Monday whether to become Bristol Rovers boss following his side's League Two play-off final defeat by Stevenage.
The 40-year-old has led the Gulls from the Blue Square Premier to 90 minutes away from League One in his first managerial role.
"I'm talking to the chairman and board," he said.
"It will probably be Monday. I haven't made my mind up whether I'm going to stay or leave."
He added: "We need to sit down and discuss this, see about taking the club forward. And then I'll make my mind up.
"It might be the right time to leave or it might be the right time to stay. I've got to let myself come down a little from the game and make the right decision.
"I've worked too hard to get to where I am now to make a rash decision. I'm not going to do that. I'm going to think about it. If it's right to go, I'll go and if it's not, I'll stay."
Stevenage won the game 1-0 thanks to John Mousinho's first-half strike and Buckle thought the Old Trafford pitch did not help his side.
He said: "I would have liked the pitch a little bit wetter. I don't think the ball moved as quickly as I would have liked. There were times the ball seemed to get stuck under our players' feet.
"We were in great positions and couldn't get it out of our feet. That didn't help. You can see what a good footballing side we are. We opened Stevenage up, we just lacked the finish.
"We were all over Stevenage in the second half. We were on top, our front four stretched them time and time again. But we couldn't get through.
"I honestly thought we were the better team on the day, I think we created the better chances.
"We are normally a lot more efficient in front of goal than we were today. But I can't blame the players. I thought we did well to cope with Stevenage's power and directness of their play.
"We carved out a lot of chances. I thought in the second half if we got one, we'd go on to win it. I thought we played well but you need a bit of luck.
"We've always seemed to cope with their style. But the hardest thing in football is to put the ball in the back of the net and we didn't."
Torquay were outplayed in the first half but Buckle does not think that doubts over his future had any impact on his players.
He said: "It [the rumours] has been going on before the play-offs. I think our three performances were excellent, we conceded one goal. But that's the play-offs.
"We've gone through in them before, we've had that great feeling that Stevenage have. But if you can't suffer disappointment, you'd better get out of management. Tonight is a low but there are a lot of other things good at our club that we're thankful for."
Torquay finished 17th last time around and Buckle thinks it was a good season for his side despite it ending in heartbreak.
"It's an absolutely remarkable achievement to be leading a team out in the play-off final. We didn't script this, we didn't think it was going to happen," he said.
"As a manager you take the rough with the smooth and I'm still very proud of what we've achieved this season."