John Boyle urges fairer SPL cash split
Last updated on .From the section Football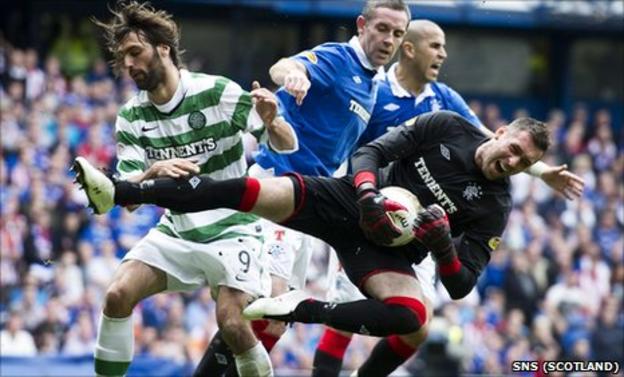 Departing Motherwell chairman John Boyle believes the Old Firm must agree to a fairer allocation of revenue.
The teams finishing first and second in the Scottish Premier League currently take 32% of the money dished out.
"The criticism I would have of Celtic and Rangers in my time is that the distribution of monies was too niggardly," Boyle told BBC Scotland.
"By squeezing the other clubs, as they have pretty regularly done, all you get is an ever-more lopsided league."
Boyle, who took over at Fir Park in 1998, is stepping down this summer and handing his shareholding over to the club's supporters.
And, while he is leaving, he is urging new Rangers owner Craig Whyte to lead the way with a new approach to SPL funding.
"He needs to look at the situation with fresh eyes and not say 'we need more and more money' because they want to be in Europe," he said of Whyte's recent takeover at Ibrox.
"Rangers have got a hugely loyal, faithful and sound fanbase. That's where they derive most of their revenue from."
Rangers won a third consecutive title this month, edging out Celtic by one point, with Hearts 29 points behind in third place.
The Glasgow giants each lost only three games to other SPL rivals and 26 years have passed since another team last won the top flight.
"I would say to the Old Firm, be generous," stressed Boyle.
"You're not going to get into the Premiership or even the Championship in England. The politics of sport in the United Kingdom are pretty clear on that front.
"Celtic and Rangers are going to have to play in Scotland. If that's the case, make it a better league.
"Distribute the money more fairly so the other teams can buy better players and make it more competitive.
"What will happen if they continue to apply the squeeze is that the games will become repetitive and beating Celtic and Rangers will become a quite extraordinary feat.
"The very thing that cements their success, that they have 50,000 supporters turning up every second week, will begin to evaporate.
"They need to have a competitive league, they need to make the distribution of monies much more equitable - and that can happen."