Graham Westley backs Stevenage players in League One
Last updated on .From the section Football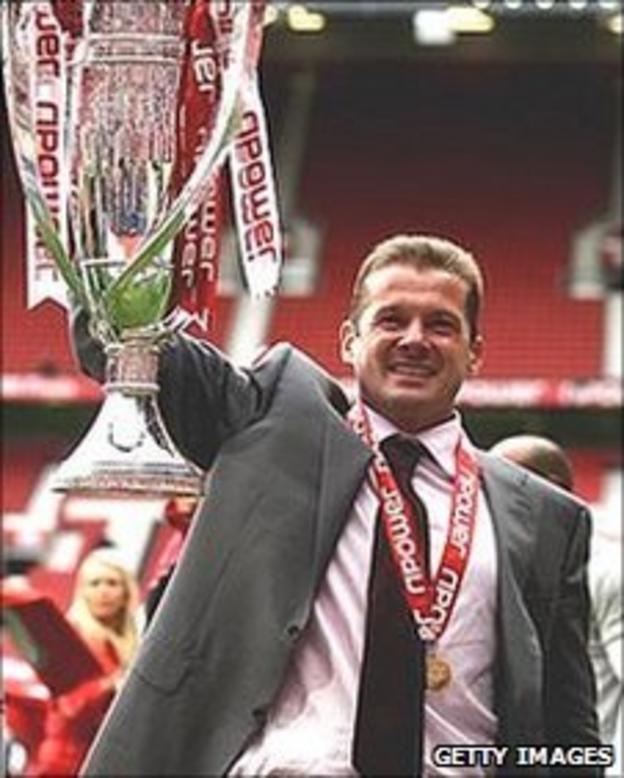 Stevenage manager Graham Westley says he will give his League Two play-off heroes the chance to play in League One next season.
Boro clinched back-to-back promotions thanks to Saturday's 1-0 win over Torquay at Old Trafford.
He said: "When you win promotion, I think the important thing is the players earn the right to get a chance to show what they can do.
"We played MK Dons in the FA Cup and we knocked them out over two games."
He added: "You wouldn't have looked at the games and thought there was a massive gulf in class.
"But [2010 play-off winners] Dagenham are a fantastic outfit, well managed and they've been relegated. We know it's a bit leap, it's going to be tough."
Stevenage won the Blue Square Premier title in 2010 and Westley says he went into their maiden season in the Football League aiming for another promotion.
"It's my job to anticipate it's possible. You don't go into a football season as a manager wanting second best. You want progress and to win medals," Westley said.
"I knew it wasn't going to be easy, just like next season won't be easy.
"It was a big jump to go into the Football League and the players had to work phenomenally hard.
"They were 18th in January so it shows what a big leap it was. But they kept their confidence, kept their work ethic, kept their togetherness, kept their spirit and showed what those things will get you."
The gap between the Blue Square Bet Premier and League Two is constantly narrowing, with Boro and the Gulls non-league rivals two years ago.
And Westley, who led Farnborough to the Conference National in 2001, said: "I was promoted into the Conference as a manager and got the shock of my life.
"So I came into League Two expecting to get a shock, thinking that the difference would be notable and the lads would struggle to adjust, just like my Farnborough team did when they got promoted. I knew this season would be tough.
"We've worked really hard and long to get to where we are. I just wanted to push forward as much as we could do. I thought we'd get better and better. I thought our best was yet to come throughout the season.
"There's a big endurance base in our training and we always seem to end the season strongly - 14 wins from 15 last season to win the championship and we've had a great end to the season this year."
Boro beat Newcastle 3-1 in a famous FA Cup victory in January but sat 17th in League Two in the middle of that month.
And Westley said: "Because of our cup run, we've had Tuesday, Saturday, Tuesday, Saturday, they've played so many games, it's been incredible."
And he has not started properly planning for next season yet: "I haven't had a chance to do long-range planning, although we've started to sign one or two lads because we've had to.
"I've been in the play-offs before and done absolutely nothing and then you're behind everybody. Before you know what league you're in, you can't really do the planning."
One of Stevenage's stars, especially in the first half that they dominated, was Darius Charles, who was converted from a defender to a striker earlier this season, and tore Torquay's defence to shreds at stages.
Westley said: "He is versatile, he played down the left for Brentford and I liked him on the left wing, he's got a great forward momentum.
"Ebbsfleet converted him to a centre-half and he's played at left-back. Today he was outstanding up top, he led the line exceptionally well. He held the ball up, allowing us to bring our midfield onto the game. And he's got some brilliant individual ability.
"At the beginning of the season he joined us a relegated centre-half with Ebbsfleet and he said his ambition was to play in the World Cup. You have to say, he's a lot closer to it now than he was at the start of the season.
"He wants to put his name forward and have it in lights. He's an ambitious boy and he's prepared to work at his game. He's developed fantastically well this season."
But Westley accepted that his side may have been fortunate to win, considering Torquay's second-half performance.
He said: "It was very much a game of two halves. The first half, I thought we took the game to them. They were a bit nervous and apprehensive and we tried to exploit that and I thought we had by far the better of the first half and deserved to go in ahead.
"Second half, whether it was us dropping off or the wind making it hard to get out at times, but they worked the ball very well, made it difficult for us and there was some fantastic defending to get us out of several holes. They played very well in the second half and it was tough.
"I choke for him [Torquay boss Paul Buckle]. Play-offs are brilliant for football, they give opportunities for so many people but they're horrible when you lose.
"His side were outstanding in that second half. They've had a tremendous season. They're a small club like ourselves. It was a fantastic achievement to get into the play-offs and knock out Shrewsbury. They were a credit to him in the second half."
And the Boro manager had a special word of praise for John Mousinho, who scored the only goal: "He's been regarded as a defensive midfielder throughout his career. He was offered a new contract to stay at Wycombe and play as a right-back.
"My feeling is he has so much more about him than to limit himself to that. And this year he's shown all those characteristics. He's grown as a player, he gives you a forward momentum from midfield and today it was a tremendous strike."