Champions League final statistics
Last updated on .From the section Football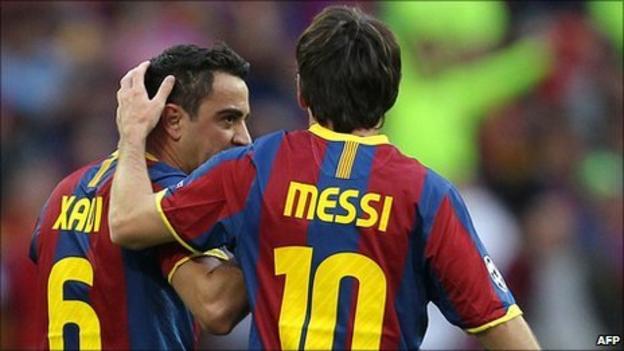 The difference between Barcelona and Manchester United was clear to see during the Champions League final, as Lionel Messi inspired Pep Guardiola's side to a 3-1 victory.
But the collective effort of the Catalan team was crucial in constructing the win, demonstrated by the following statistics courtesy of Opta.
777 - Total number of passes that Barcelona made in the final, more than double Manchester United's 357. Barca had 69% of overall ball possession.
148 - Passes that Spanish midfielder Xavi completed during the game, a high for the Champions League this season. He misplaced only seven, giving him a completion rate of 95%.
90 - Percentage of passes completed by the Barcelona team. United's was 80%.
60 - Passes between Xavi and Andres Iniesta, the most common pass journey on the pitch. United's most frequent combination was between defender Rio Ferdinand and Nemanja Vidic (16).
55 - Number of times Xavi and Iniesta passed to Messi.
18 - Passes made by Barcelona keeper Victor Valdes - two more than Manchester United striker Javier Hernandez.
16 - Times United fouled Barcelona's players. Barcelona did likewise to their opponents on only five occasions.
15 - Dribbles by Messi, of which 10 were successful. Wayne Rooney was the next most frequent dribbler with six.
12 - Shots on target by Barcelona. Messi and Iniesta had three of these each.
11.95 - According to Uefa, distance in kilometres covered by Xavi, the highest in the Barcelona team. Ryan Giggs covered the greatest distance by a United player (11.16km).
1 - Number of shots that Manchester United had on target. This was Rooney's 34th-minute goal.