Fifa: Dick Pound says countries could break away
Last updated on .From the section Football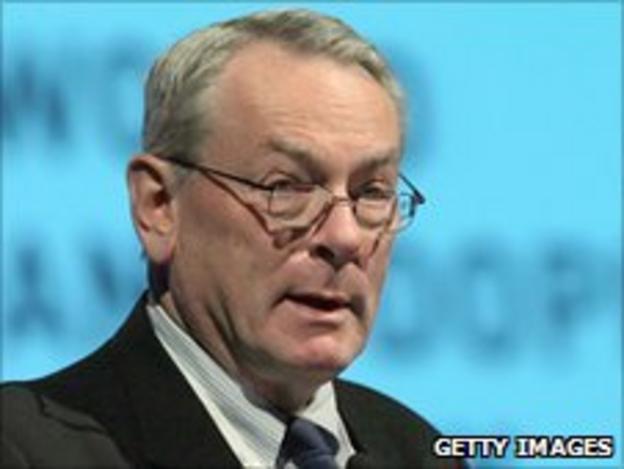 Former International Olympic Committee vice-president Dick Pound has told the BBC that countries could form a breakaway association from Fifa if the current problems are not solved.
President Sepp Blatter will appear before an ethics committee of world football's governing body on Sunday.
Also due to appear are senior officials Mohamed Bin Hammam and Jack Warner.
"If Fifa is not going to do the game any good, the game may have to do something to Fifa," Pound told the BBC.
"You could withdraw from Fifa, for example, and say we're not satisfied that the organisation is not being properly run and it isn't a credit to the sport we know and love, so let's have an alternative.
"That's one possibility. It has been done in other sports."
Canadian lawyer Pound, who is a former head of the World Anti-Doping Agency, was at the forefront of uncovering scandals involving Salt Lake City.
The IOC was forced to change the way bids for Olympic Games were assessed and voted upon after it emerged officials were bribed to choose the American city as the venue for the 2002 Winter Olympics.
But he told BBC Radio 5 live's Sportsweek programme that he believes the perception of Fifa is in danger of being damaged, with its presidential election due to be held on Wednesday if three-quarters of voters approve.
Executive committee member Bin Hammam, who was due to oppose Blatter in the forthcoming election until he withdrew in the early hours of Sunday morning, and vice-president Warner will be at Sunday's hearing in Zurich to answer charges of bribery over allegations from executive committee member Chuck Blazer that they offered bribes at a meeting of the Caribbean Football Union (CFU) on 10 and 11 May.
A file of evidence claims bundles of cash of up to $40,000 (£24,200) were handed over to members of the CFU at the meeting in Trinidad.
In turn, Bin Hammam is effectively claiming Blatter was aware of some wrongdoing but did not report it, in itself a breach of Fifa's ethics code.
"There are so many allegations of corruption and foul play and so forth around the activities of Fifa itself and in some of its recent selections for its events," said Pound.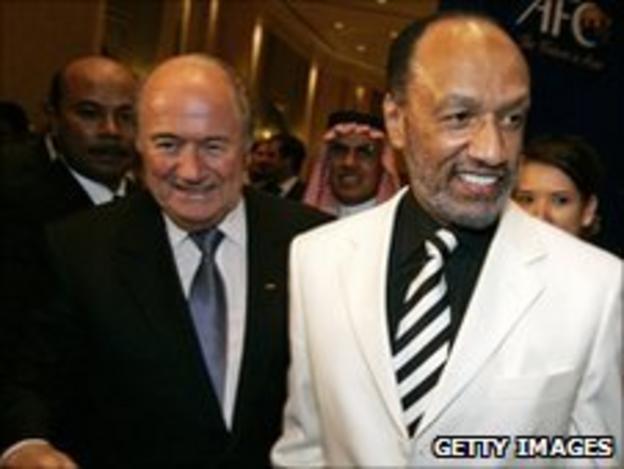 "I should have thought it's not good for Fifa's reputation nor for the reputations of anyone involved for these things to be flying around without someone taking action.
"When something like this happened to the IOC, we took it extremely seriously. It was a difficult and painful process and when we emerged people understood we had done our best to try to get at the facts and deal firmly with those who had transgressed.
"The perception of the IOC today is quite different from what it was in 1998 or 1999.
"If the perceptions of an organisation is that the organisation is rife with corruption then it is up to the organisation either to demonstrate that it's not or, if it finds that it is, to take whatever remedial measures are appropriate.
"Either they have got to find someone internally whose reputation is above reproach who can't be diverted from doing the right thing or they have to find someone from outside and make sure that person will be provided with all of the necessary information and access to what has gone on."
Last year, FA general secretary Alex Horne told BBC Sport in the wake of the failed 2018 World Cup bid that to form a breakaway organisation was "impractical" and "too reactionary".
But Sports Minister Hugh Robertson has expressed his interest in reform.
"As you know I don't have have any power [to change Fifa]," he said. "But I will be speaking to our FA and through the European sports ministers meeting and the commission in Europe I will make strong representations. There is a real political drive to reform sports institutions that are in Europe. I will be using all the international levers at my disposal to push for reform."
Former German great Franz Beckenbauer described the current situation as a disaster for football but he still believes Blatter is a credible leader.
"It's not easy. Fifa is like the United Nations with so many different nations and it is not easy to handle but I think Blatter and his staff are doing a wonderful job," he told Sportsweek.
Former FA chief executive Mark Palios said: "The image problem is still there, perhaps more so, as it could be seen as a sort of stitch-up."
He told the BBC that the current developments may give the FA some scope to "gather behind more like-minded individuals" who might seek to reform the world governing body.