Rob Earnshaw calls for Nations Cup revamp
Last updated on .From the section Football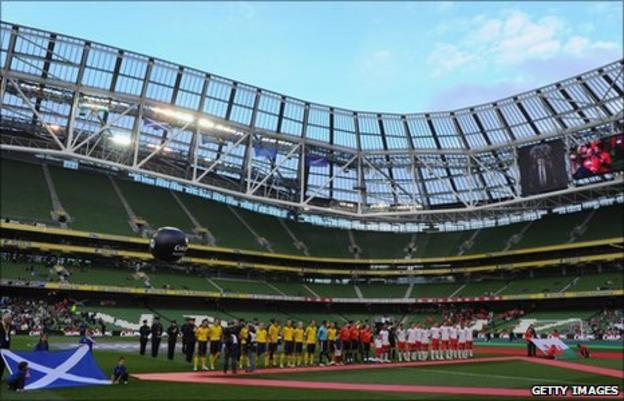 Rob Earnshaw has urged Nations Cup organisers to "look at" revamping the tournament after just 529 fans watched Wales beat Northern Ireland.
The Welsh are due to host the next competition in 2013 but boss Gary Speed conceded he was "not too sure" if that would happen before Friday's 2-0 win.
All games at the inaugural Nations Cup have suffered poor crowds at the 51,000-capacity Aviva Stadium.
"You want to play in front of a full house," said Wales striker Earnshaw.
"So maybe it's something the organisers can look at in the future."
Earnshaw and Aaron Ramsey scored for Wales as they beat Northern Ireland in the wooden spoon decider in front of the sparse crowd in Dublin.
But the disappointing turnout was not as low as the 487 spectators that watched Wales lose 1-0 to Poland in Portugal in 2009.
The biggest crowd of the whole round-robin tournament was the 19,783 that watched hosts Republic of Ireland's opening game victory over Wales in February.
The four home associations will meet for a post-tournament debrief with question marks over whether the Nations Cup will continue.
Wales legend Neville Southall has already labelled the event a "Mickey Mouse" tournament.
And Speed has stated that Friday's match against Northern Ireland will "definitely" be the last Nations Cup game "in this format".
"In essence it is a good idea but if it is not a level playing field, there is no point in the tournament." Speed had said.
"If it is organised and arranged differently then you never say never. I don't think too many people have benefited from the tournament.
"How can one team play Tuesday and Sunday and another play Wednesday and Sunday then we play Wednesday and Friday?
"I don't care what format it is as long it's a level playing field and we have not had a fair crack."
Then asked if the Nations Cup would survive to be hosted by the Welsh in 2013, Speed added: "I'm not too sure.
"If we have any input into the organisation then maybe."
The low crowd overshadowed Earnshaw's 16th international goal in his 54th Welsh cap as the Nottingham Forest forward moved alongside Mark Hughes and Cliff Jones to joint sixth in Welsh football's all-time goal-scoring list.
The 30-year-old said: "It's a little bit disappointing. In a stadium like this especially, you want it to be at least half full.
"It's such a great stadium and a good tournament as well and I think they just need to have a look at what they can do better and see if we can pull in crowds as well.
"Every team who is competing wants to play in front of a big crowd. But when you step out onto the pitch, you are just happy to be there and everything else goes out of the window."