Gareth Bale in London 2012 Olympics plea to Welsh FA
Last updated on .From the section Football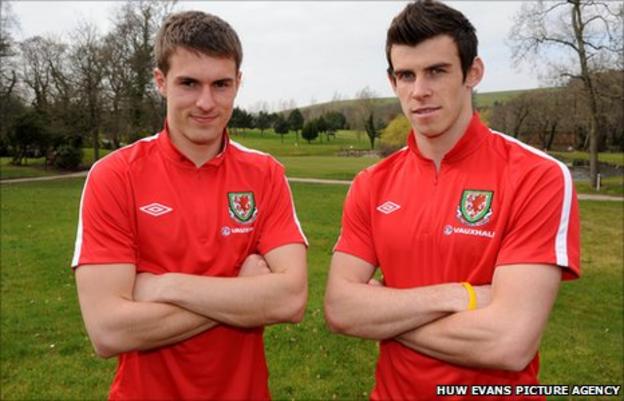 Gareth Bale wants to represent Great Britain at the 2012 Olympics as he may not qualify for a major international tournament with Wales.
Wales, Northern Ireland and Scotland do not want their players to compete as they fear it could compromise their international football independence.
Fifa have reassured the home nations about contributing to a British team but no association want to risk it.
"I want to play in the Olympics," said the Tottenham Hotspur winger.
"I think it would be a great experience.
"At the moment Wales haven't qualified for a major tournament in I don't know how many years so it would be nice to play in one against the best countries in the world.
"You see it with the British and Irish Lions in the rugby, they come together as a unit and play against other countries. It's great and there's no reason why that can't happen with the football."
Football Association of Wales chief executive Jonathan Ford has publicly stated his stance that their London Olympics refusal is to "protect" the Wales national team that played its first game against Scotland in March 1876 but has not qualified for a major final since the 1958 World Cup.
Fifa president Sepp Blatter gave an assurance over the nations' independence during the 125th International Football Association Board (IFAB) conference in early March.
The associations of Scotland and Northern Ireland also share Wales' concern that merging for Team GB at the Olympics could be used by other nations as a justification to get rid of their individual status.
Cardiff's Millennium Stadium is set to host football matches at the 2012 Games but England is the only country willing to give their players permission to turn out at the Olympics.
Each of the 16 men's teams and 12 women's teams will consist of youngsters, with only two players over the age of 23 allowed in each squad.
PFA Player of the Year Bale and Arsenal midfielder Aaron Ramsey would be two possible Welsh members of a combined British squad, if the FAW change their position.
Bale admits the fact that the Games is taking place on home soil is a big incentive to play but admitted that any decision on whether he takes part would rest with the Welsh FA.
"The crowds would be piling in to watch us," said Bale.
"It would be a great atmosphere and experience for us.
"I'm not really sure how it works with who can play though. That's something that Wales would decide."
Although not regarded as one of the marquee events of the Olympics, football has been a regular fixture in all but one Games since its introduction in 1908.
And Britain's men have won the event twice, first in 1908 and then four years later in Stockholm.
"I'm not massively into athletics but I watch the 100 metres final and the other track and field events," said Bale.
"You see the athletes getting medals and I think there's no reason why we can't get a medal ourselves."