Michel Platini rules out running for Fifa presidency
Last updated on .From the section Football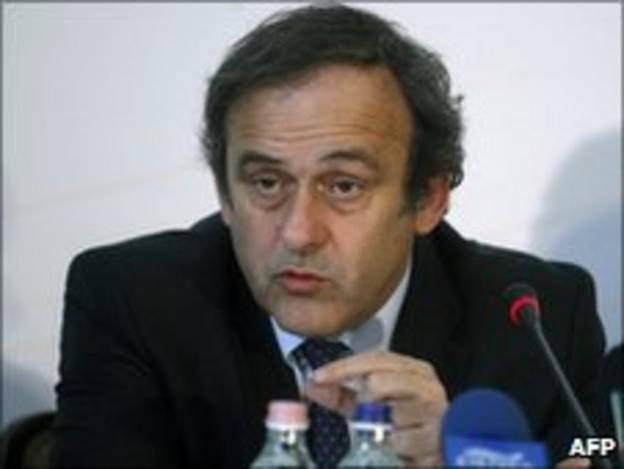 Michel Platini has ruled out running for the Fifa presidency ahead of elections marred by a corruption probe.
Platini said he would remain head of Uefa, Europe's governing body, for his full four-year term.
But the Frenchman, also a vice-president of Fifa, added that the world body "has to be clean, be good and think of the values of football".
Fifa will hold its presidential election on Wednesday if three-quarters of voters approve.
Sepp Blatter, the current Fifa president, is bidding for a fourth term in charge but is being investigated by the organisation's ethics committee over accusations, from presidential rival Mohamed Bin Hammam, that he failed to report the payment of alleged bribes.
But Platini stated there was "no possibility" of him entering the leadership contest
"If there is an election then a new president will be elected for four years," he commented. "If there is no election then it will be complicated but I don't know what will happen."
Despite the problems, Platini said corruption was a wider problem and not just a matter for football and Fifa.
"We know perhaps in the big assemblies there are not so clean people, like with journalists, football players, in music, politicians," he said.
"Let's go to the executive committee, the disciplinary committee, let the people have some evidence and take a decision after that."
Platini was elected for a second term as Uefa president in March, meaning 2015 would be the earliest opportunity for him to stand for the Fifa leadership if he serves his full period in office.
He is one of seven Fifa vice-presidents and has been a member of the Fifa executive committee since 2002.
Blatter will appear before Fifa's ethics committee at the body's headquarters in Zurich on Sunday and will not be at Saturday's Champions League final at Wembley. Bin Hammam and vice-president Jack Warner will also be at the hearing to answer charges of bribery.
They face allegations from executive committee member Chuck Blazer that they offered bribes at a meeting of the Caribbean Football Union (CFU) on 10 and 11 May.
A file of evidence claims bundles of cash of up to $40,000 (£24,200) were handed over to members of the CFU at the meeting in Trinidad.
In turn, Bin Hammam is effectively claiming Blatter was aware of some wrongdoing but did not report it, in itself a breach of Fifa's ethics code.
But Warner insisted he was innocent when he spoke to local Trinidad media on Saturday.
"The time has come when I must stop playing dead," he said, before flying to Switzerland. "In the next couple days, you will see a football tsunami that will hit Fifa and the world that will shock you."
Warner dismissed suggestions that the file compiled by John Collins, a former United States federal prosecutor who is now a member of Fifa's legal committee, could end his career within football's ruling body.
"Why should [I] be hanged now and by whom? The American Chuck Blazer? His American lawyer John Collins? Give me a break guys," he added.
"I will hold my head high to the very end because I am not guilty of a single iota of wrongdoing. Que sera, sera. I am not remotely bothered."
The crisis has prompted BBC sports editor David Bond to claim Fifa is "an organisation completely at war".