Ashley Williams warns Swansea ahead of Reading final
Last updated on .From the section Football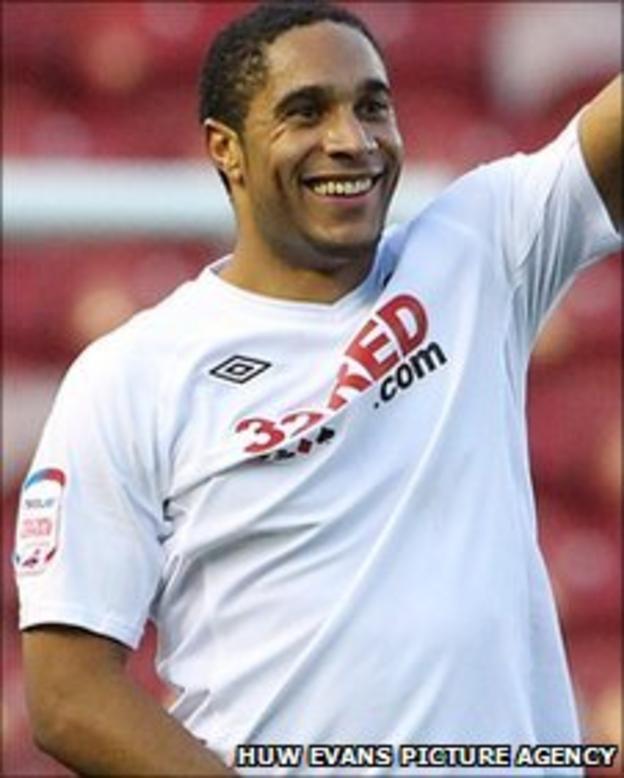 Ashley Williams has told his Swansea team-mates their plaudits for playing stylish football will mean nothing if their promotion bid fails.
The Wales defender is determined to make up for the pain of last season, when the Swans missed out on reaching the play-offs on the final day.
Williams hopes to complete a non-league to Premier League rise by beating Reading in Monday's play-off final.
"There are no excuses this time," said the 26-year-old centre-back.
"We have fallen short the last two seasons and that hurt is driving us on this time.
"I remember how I felt last summer. It is a long and horrible summer break when you don't achieve anything from the season and the team would hate for that to happen again.
"We enjoyed our celebrations after beating Nottingham Forest to reach the final and we want those celebrations times 10."
Swansea qualified for their fourth play-off final with a two-legged victory over Forest after finishing third in the Championship with 24 regular-season victories, a number only matched by champions Queens Park Rangers.
The Swans' style of play has been widely acclaimed this season and Williams feels the team deserve to be the first Welsh side to grace the Premier League.
"I think we deserve to go up as it takes brave players, a brave team and a brave manager to play the way we do," said Williams.
"People say it is the proper way.... it is attractive and we've earned a lot of plaudits. We're easy on the eye and people enjoy watching us play and we enjoy playing that way.
"The boys won League One promotion playing good football and we've continued to progress by sticking to our principles.
"If we win we can say we did it the right way. But the plaudits mean nothing if we don't get promotion.
"I think the fans appreciate what we've done this year and we're pleased we can repay them with a nice day out at Wembley.
"And hopefully we'll give them more to celebrate with trips to Old Trafford, Stamford Bridge and Anfield next season."
Swansea enjoyed two years in the top flight between 1981 and 1983 after a four-year rise from the bottom to the then First Division.
Brendan Rodgers' team are now 90 minutes from the Premier League just eight years after being 90 minutes from dropping into non-league.
Williams' career has also enjoyed a similar climb as the former theme park worker is now an established Welsh international.
"I played part-time for Hednesford in the Conference South and also worked at Drayton Manor Park on the stalls," he recalled.
"I went professional at 18 when Stockport signed me. I then joined Swansea three years ago and Monday will be my 141st consecutive game for the club.
"It has been a tough progression but I wouldn't have wanted to do it any other way than the hard way.
"And in a few days I might be able to call myself a Premier League player."