Champions League: Guardiola seeks Barcelona improvement
Last updated on .From the section Football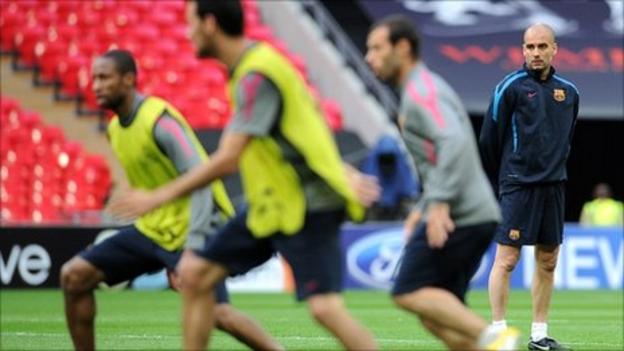 Barcelona coach Pep Guardiola says his team will not beat Manchester United in the Champions League final if they play like they did in the 2009 showpiece.
On that occasion, Barca won 2-0 thanks to goals from Samuel Eto'o and Lionel Messi, and dominated the game.
But Guardiola believes they need to improve against a side who have the best defence in Europe this season.
"If we play as we did in Rome, this time we won't win. We played worse in Rome than we wanted to," he said.
"We need to play much better than in 2009 and this is the thing I've told my players over the past couple of days."
With both teams aiming for their fourth European Cup, Manchester United manager Sir Alex Ferguson believes they could produce the best final for a decade.
And as winners of their respective domestic competitions, both teams will be hoping to finish their seasons with a memorable double.
"We have the audience of the world and we have to show we deserve this credit of 'the final of the decade'," Guardiola said.
"When you play in a final and both teams want to win and both want to play, for the rest of the world I can imagine it will be a good final.
"They have their strength, we have our skill, and we have to see who controls the situation best."
Many observers claim that with Messi, Spanish World Cup winners Andres Iniesta and Xavi, plus a host of other attacking talents, Guardiola's side are the best club side in history.
But 40-year-old Guardiola, said: "It's like a great film, only with the passing of time can you know if a film is good and it's the same with us."
The Barcelona manager also revealed that he had already decided on his team for Wembley on Saturday but added that he was worried by United's players, and paid tribute to Mexican striker Javier Hernandez.
"Ferguson said there were four or five different teams he could play," said Guardiola. "That shows how much talent is in that team.
"Strong points, they've got a lot of them. Weak points, they've got a lot of them too."
He added: "I'm worried about everything. Manchester United worries me. They have fantastic players, they're powerful, one of the most complete teams I've seen in all senses."
On Hernandez, Guardiola said: "He's a huge surprise, he's amazing.
"He's amazing when arriving in the area. He has incredible movement without the ball. Manchester United have bought an enormous young talent.
"I am convinced that he will be an important player for the next few years at United."