Arsenal and Wales' Aaron Ramsey is ready for new season
Last updated on .From the section Football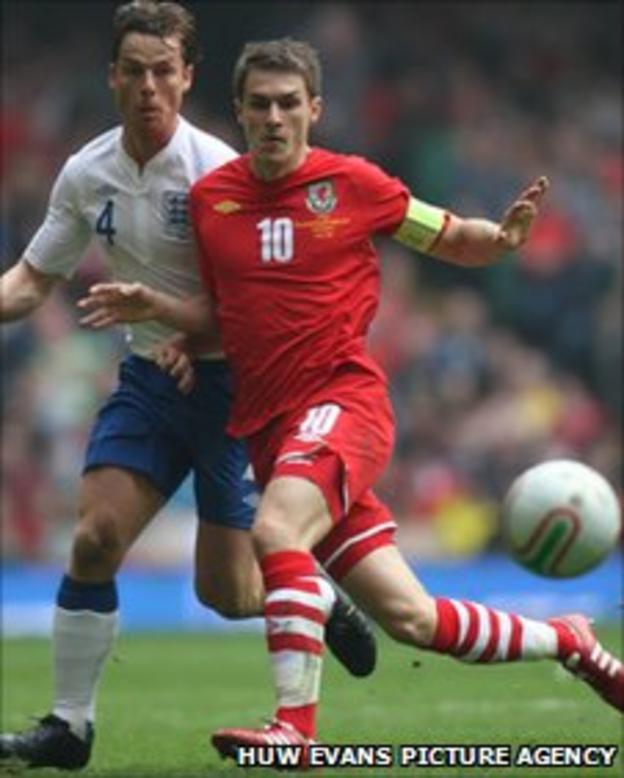 Arsenal and Wales midfielder Aaron Ramsey says he is already looking forward to next season.
Ramsey returns to the Wales starting line-up as captain for the match against Northern Ireland in the Nations Cup in Dublin.
And having suffered an horrific broken leg in February 2010, the 20-year old says he is now fully fit.
"If I look back I think I've been pretty happy with what I've done this season," said Ramsey.
Ramsey suffered fractures to the tibia and fibula of his right leg following a tackle by Stoke's Ryan Shawcross during a Premier League game last year.
As part of his recovery the young midfielder spent loan spells with Nottingham Forest and former club Cardiff City.
He returned to Arsenal and scored the only goal of the game to secure a 1-0 over Manchester United at the beginning of May.
"I got myself back into match fitness," said Ramsey. "I've been pretty happy with that.
"Another game will be good for me and hopefully next season I can have a good pre season and start off the same as everybody else.
"I'm going to have a break like everybody else [and] hopefully I can have a good year next year."
Wales boss Gary Speed appointed Ramsey as national team captain prior to the Euro 2012 qualifier against England in March.
And for Friday's game against Northern Ireland, Ramsey is one of ten changes to the Wales side who started against Scotland on Wednesday night.
The Caerphilly-born player made a second half substitute's appearance during the 3-1 defeat, which leaves Wales without a win in the competition.
"It was nice to get on the pitch and play some part in the game," added Ramsey, who replaced Leicester's Andy King after 61 minutes.
"But obviously it was a disappointing result and [I'm] looking forward to starting the game [and] hopefully producing a good performance.
"They [Northern Ireland] had a bad result against Ireland the other day," said Ramsey of 5-0 defeat suffered by Nigel Worthington's side.
"They [will] be hoping to put on a good performance as well as us. I'm sure it will be a good game and two teams wanting to win the game."
Poor attendances at Dublin's Aviva Stadium have been a feature of the Carling Nations Cup so far and another low crowd is expected at Friday's clash.
But Ramsey says the lack of numbers and atmosphere will not affect the Welsh players on Friday night.
"The other day [it] was fairly empty as well," he said of the Scotland game, which attracted an attendance of 6,036.
"We went about it in a professional way and still tried to do the right things and play the right way. We'll do that again."