Patrice Evra admits complacency against Barca in 2009
Last updated on .From the section Football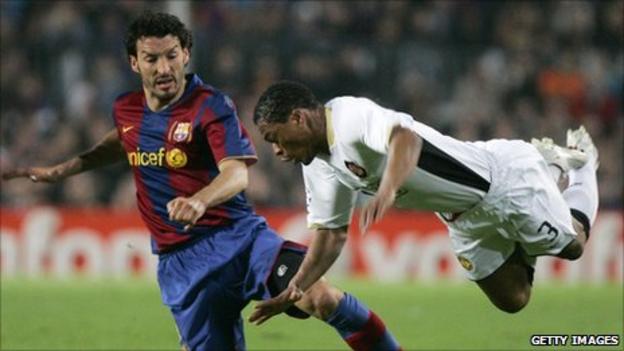 Manchester United defender Patrice Evra has admitted he was "too confident" before the 2009 Champions League final against Barcelona in Rome.
United's players have been watching DVDs of that game as they prepare to face Barca again in this year's final.
He said: "I am honest. I was confident in Italy. Maybe too confident.
"It hurt so much when we lost. We did the team pictures the following season. We had three trophies. But we were missing the one with the big ears."
United won the Premier League, World Club Cup and the Carling Cup that year but Evra refers to the Champions League trophy, which the 30-year-old has won once in three final attempts.
As a Monaco player, the Frenchman lost the 2004 final against Porto but won the 2008 event when Manchester United defeated Chelsea. Sir Alex Ferguson's side then lost 2-0 against Barcelona two years ago.
Discussing United's chances in Saturday's final, he added: "Everyone says Barcelona are the best team in the world now. I respect that.
"But, two years ago, everyone said we were going to beat Barcelona easily in Rome. Maybe the opposite will happen this time.
"Barcelona are very good at keeping the ball but football is not about keeping the ball, it is about scoring goals."
Evra thinks United have been gathering momentum since their 1-0 home win over Turkish side Bursaspor in the Champions League group phase on 20 October - a victory that was overshadowed by striker Wayne Rooney's announcement a couple of hours earlier that he wanted to leave the club.
"The year twisted on that game against Bursaspor," admitted Evra. "We won but everyone was criticising us.
"But, for all the trouble that was around the club, I felt then the team was more of a unit. I just knew Manchester United were going to come together."
Evra's team-mate, goalkeeper Edwin van der Sar, is determined not to end his Manchester United career on a low. The Barcelona game will be the 40-year-old Dutchman's final match for the club.
"You do think more about things you lose than what you win," said Van der Sar. "When you have won, your medal goes into the cupboard or the safe in the bank.
"But when you lose, you know something has slipped through your fingers. It makes you more determined.
"If we win, I won't want to go home. If I lose, I won't want to leave home. Maybe it sounds strange but I just wouldn't want to see anyone.
"I played a few years at Fulham and remember watching Chelsea's Champions League matches against Bayern Munich and Barcelona and thinking it would be great to be playing those kind of games again.
"Thankfully I have managed to do that at United and it is nice that my final match should be on an occasion such as this."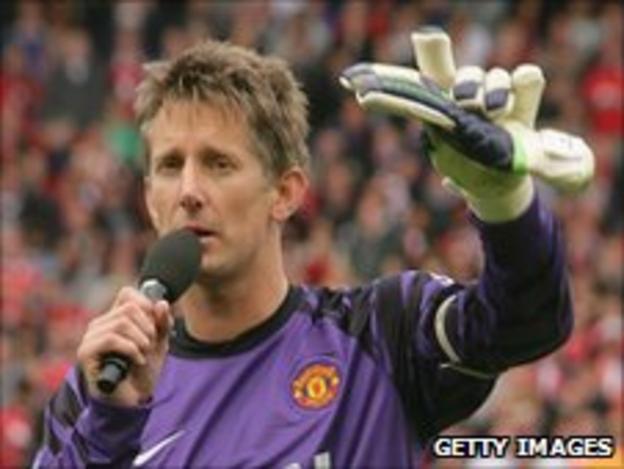 He added that the attitudes of United's players will be the same as it is ahead of any other game.
Van der Sar said: "Preparation is the same as if you were playing Wigan. The difference is in the intensity because nothing beats this game."
Defender Chris Smalling is relishing swapping the living room for Wembley when he watches Saturday's final from the bench.
"I used to watch the Champions League at my mates' houses all the time," said Smalling, who was playing for non-league Maidstone United three years ago.
"It has only been one season at United and I am already looking towards a Champions League final. It is going to be a great occasion at Wembley.
"Even the group games, when you hear the music on a Tuesday or Wednesday, the music sets it alight. Everyone watches, regardless whether you support a team or not. It is great just to be able to be part of it."
Speaking about the preparation for the final, he said: "We have had a lot more meetings, making sure we are tactically aware but everyone has just been training like they have all season.
"We have been setting up in training how Barcelona play. We have watched many videos and we have adapted that into our training so we know what we are going to be up against.
"We have watched the 2009 game, we have all got clips, but 2009 is out of our system. This is a new chapter now.
"The management gave us a DVD of different aspects of what we will be up against. It is little bits and pieces on individual players.
"Once we have got that side sorted, we can express ourselves then we will have no fear. It is about building up the courage."
Uefa announced on Thursday that Hungarian referee Viktor Kassai will take charge of the final.
The 35-year-old, who made his international debut in 2001, has officiated in more than 60 Uefa matches in his career.