Romanov anxious for Hearts' stadium plans to move ahead
Last updated on .From the section Football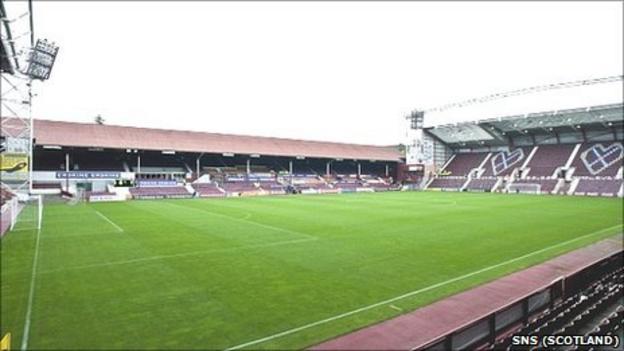 Hearts owner Vladimir Romanov is anxious for Hearts to press on with their stadium development plans.
The club is investigating either remodelling their Tynecastle home of 125 years or moving to new premises.
"There is no future for the club without a new stadium," said the Lithuanian-based businessman.
"We are doing everything we can to stay at Tynecastle but we may not be able to remove the planning obstacles in our way - health and safety hurdles."
The club is in talks with Edinburgh City Council over the possibility of moving to a new stadium but at the same time is conducting feasibility studies into the redevelopment of their ground in Gorgie.
Fans have been asked for their views in a survey.
Hearts estimate that to add 1,700 seats in a redeveloped main stand would cost about £20m, while another £10m would allow construction of a new 30,000-seater stadium on the west side of the city.
In a wide-ranging interview on the Hearts website, Romanov praised the club for finishing third in the Scottish Premier League but was concerned by the team's poor end-of-season form.
He said: "The team has shown good results this season but it was disappointing at the end when we were fighting for one of the top places in the league.
"It is hard to believe that our team, who won against every opponent in the league, succeeded only once in the last 12 games.
"This trend makes me worried and wary. The circumstances surrounding such results are undoubtedly wicked.
"There are no excuses for it and we have to fight it.
"I'm waiting for some suggestions and information from those who may have some information on what the reasons were for the weak end to the season."